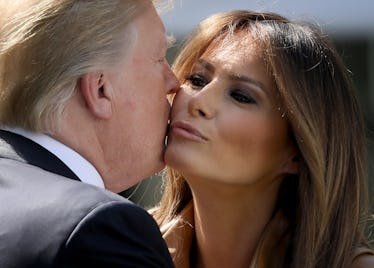 Melania Trump's Dating History Pre-Donald Is Mysterious
Win McNamee/Getty Images News/Getty Images
While we all know that Melania Trump has been off the market for quite some time — officially 13 years, to be exact — I can't help but wonder just who the former model dated before President Donald Trump. I'll admit: it's pretty hard for me to even conjure up that image, but a quick scan of the internet has produced a small piece of Trump's dating history before her current relationship, and it has me completely shook. So, who did Melania Trump date before Donald? Let's talk about it.
Melania Trump and Donald met at a Fashion Week party in 1998, when she was just 28 years old, while he was on a date with another woman (and still married to — but separated from — his second wife, Marla Maples). Though Trump was admittedly turned off by Donald during their initial encounter, she told the publication that they exchanged numbers anyways, and the rest has seemingly been history. They wed in 2005 in a lavish ceremony at Donald's Mar-a-Lago estate in Florida, welcomed their son, Barron, the following year, and — to fast forward a bit — claimed the White House in 2016.
But before Trump and Donald's romance, she reportedly dated a man named Jure Zorcic when she was 21 and still living in Slovenia (back when she was known as Melanija Knavs), according to ABC News. However, the White House has denied this story, and Elite Daily has reached out to the White House for additional comment on her dating history, but did not hear back at the time of publication.
"We met each other like in a movie," Zorcic claimed to ABC News in 2016. "It was a hot summer day, in between wars in Slovenia [in 1991]. It was the beginning of a new political era for us, the city was empty, blocked by the army."
He continued with his version of events: "I was on my motorbike, and she has been walking down a street. As I passed by her, I had a moment and thought, 'Wow, who is this girl? She is so beautiful, I must turn back and follow her."
Wow. This scene sounds like something straight out of Roman Holiday.
ABC News claims that the two dated for several months, and while it doesn't list the exact cause of their breakup, my guess is that, if they did in fact date, then their breakup maybe had something to do with Trump's blossoming modeling career and her decision to leave Slovenia to pursue her dreams.
"She wanted to live abroad, in Italy, France, a life of fashion," Zorcic added.
However, despite Zorcic's account, Hope Hicks — then a spokesperson for the president — called the story "fiction." In March 2016, she told the Daily Mail, 'This is yet another person trying to use Mrs Trump's name for publicity. The facts are not accurate."
The rest of her love life has been quite the mystery, because when she later moved to the United States, she reportedly didn't date that often. In a 2017 Vanity Fair profile piece of Trump, her spokesperson, Stephanie Grisham, attributed the now-first lady's lack of a dating life to " to her 'extensive travel schedule' as a model."
There was, however, some speculation about her dating history during Donald's presidential bid in 2016. Critics questioned Trump's path to United States citizenship, with one former lawyer for the Trump Organization, Michael Wildes, insisting that the former model had received her green card in 2001 "based on marriage." A spokesperson for Trump came to her defense, though, maintaining that she'd gotten her green card on her own. According to the Daily Mail, the rep said, "Contrary to inaccurate reports today, Melania was not married prior to her marriage to Mr. Trump in 2005. She obtained a green card on her own." Newsweek later backed the rep, reporting that Trump had obtained legal residency with an "Einstein visa," which is given to those who demonstrate that they have "an extraordinary ability, are an outstanding professor or researcher, or are a multinational executive or manager." Considering Trump's career at the time... it makes sense.
Welp. Who ultimately knows who Trump dated before her husband, but what really matters is that she's found love and a lifetime partner now, and that's enough to satisfy my curiosity.