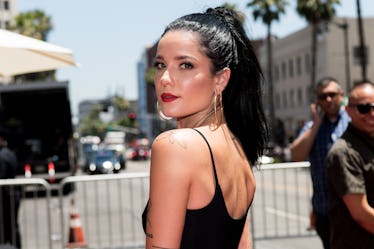 Here's Who Halsey Dated Before G-Eazy, Because He Wasn't Her First Celeb Connection
Emma McIntyre/Getty Images Entertainment/Getty Images
When Halsey and G-Eazy broke up, I was seriously upset. The two were together for about a year, and though I wasn't particularly fond about either of them before their duet, "Him & I," that song made me swoon over them as a couple. Ugh! After obsessively trying to find out why Halsey and G-Eazy broke up, my focus switched to their past relationships. Who did Halsey date before G-Eazy? I needed to know, ASAP.
I'm sure I'm not the first to point out that 2018 has been a crazy year for our fave celebrity relationships. This year's wave of breakups hit us like a truck. (I'm 150 percent going to forever be internally crying about Channing Tatum and Jenna Dewan's split.) Now, on the other hand, we're in the midst of summer love, with 18 (!!) celebrity engagements thus far, according to Us Weekly. It's been quite the year of ups and downs, and honestly, I don't know how much more my heart can take.
For now, I'll focus on Halsey and her past relationships. Who knows? Maybe one of her past loves will reignite, and then she can finally find her happily ever after. Everyone deserves that. Let me have this fantasy.