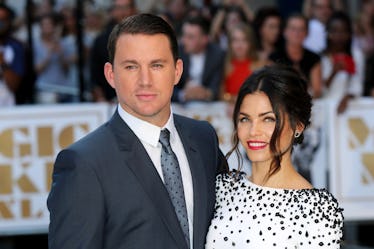 This Update On Jenna Dewan & Channing Tatum's Relationship Will Give You So Much Hope
Tim P. Whitby/Getty Images Entertainment/Getty Images
Jenna Dewan and Channing Tatum are still adjusting to their new lives post-separation, and according to Dewan, things are looking more hopeful than ever... just maybe not in the way some fans may have hoped. No, Dewan and Tatum have not announced they're getting back together. Nothing of the sort. But this Jenna Dewan and Channing Tatum relationship update is resoundingly positive and it should make fans happy for the former couple.
Harper's Bazaar recently published a profile of Dewan that highlights the positivity and hope she's currently feeling about her future, and she makes it clear that Tatum is a part of that future. Before that gets you dreaming up reconciliation conspiracy theories, keep reading. Dewan said in the interview that she and Tatum simply have "a new normal where there is a lot of love." They're not back together nor does it look like they're planning on doing so anytime soon if at all, but Dewan said they're in a very good place. And that is honestly the best fans of celebrity couples can hope for post-shocking split.
Dewan told Harper's Bazaar of her new dynamic with Tatum: "We're just getting used to it. We're in a very positive energy together, trying to be the best parents to Everly. We support each other."
Dewan's full interview is more about her own personal growth than anything else. She's spent the last handful of years figuring out what she wants out of life and finding ways to actualize those desires. She said she has a "goddess circle" consisting of her closest girlfriends and they spend a lot of time talking about the current tribulations of their lives, followed by a lot of meditating. She admitted it's all very California. She said, "I'm aware how weird that sounds… It's the whole L.A. hippie experience."
She also said that a non-profit trip to Peru two years ago left her enlightened and pretty much lit a fire under her ass to evolve her life and self completely. "I expanded, I grew up, I matured," she said. "I'm a very ambitious, passionate person. And when an idea comes in, and once you see the light, it's really hard to un-see the light." This is the kind of sh*t I eat up, guys. ALL about this.
She of course also talked about her and Tatum's 4-year-old daughter, Everly.
"She's like a little mirror for me," Dewan said. "She's so willful that she kind of inspires me to get clear and more willful in my own life." She added, "If she's not running her own business, or ruling the world, I have failed as a mother."
Dewan's career has really taken off in the last couple of years. She's been a well-known name ever since starring in Step Up alongside Tatum, but she's really picked up speed recently. Dewan discussed this in the interview, saying having Everly completely changed her perspective on her acting career.
She said,
Whether you try and hide it or not, most actresses and actors have a certain sense of anxious desperation about what their next job is. As soon as I had Everly, it went away. I had this freedom of, 'Well, I could never work another day in my life, and I have a purpose.' The irony is, that deep surrender brought so much opportunity and projects my way.
She closed the interview out on a hopeful note, saying, "It is a new dawn. There is a joy and there is a vulnerability to it. But I have a lot of hope for what the new chapter of my life will be." If one thing's for sure, it's that Channing Tatum's place in that new chapter is much different from what it was in the past.