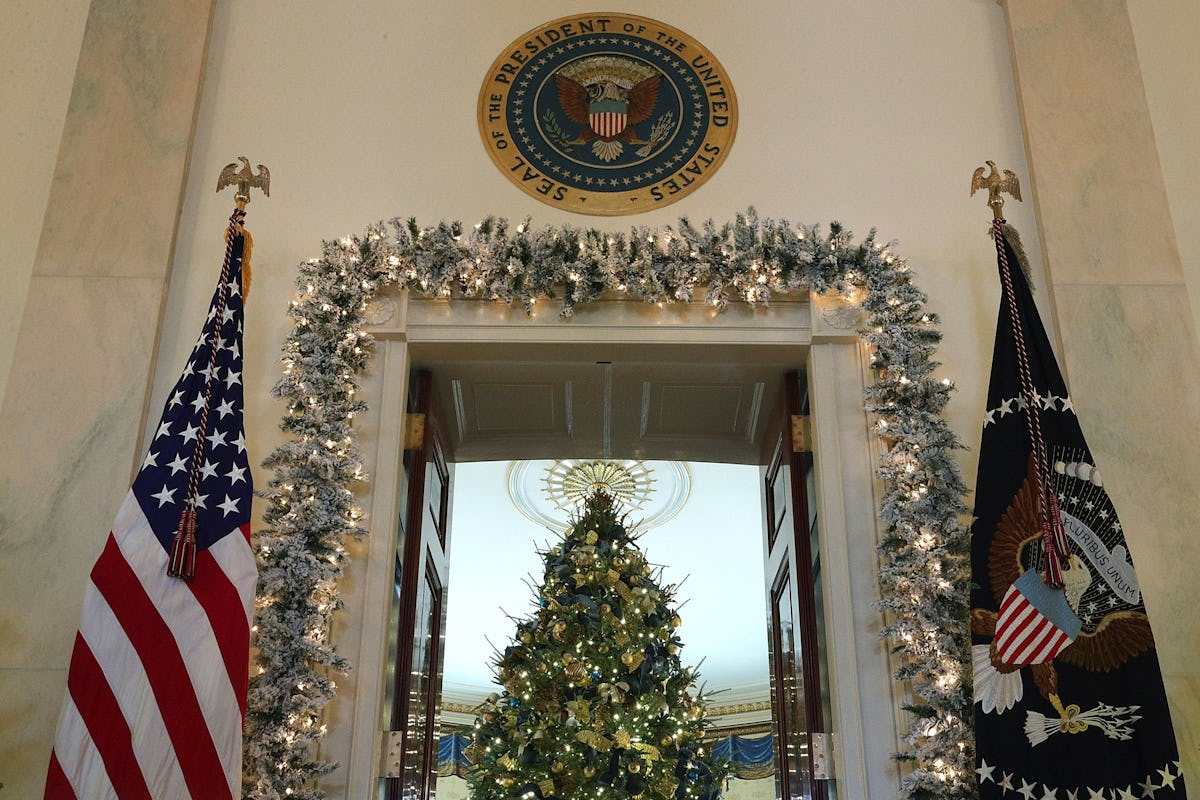 A Group of Volunteers Decorated The White House This Year & It Looked Magical
Alex Wong/Getty Images News/Getty Images
Despite whatever creepy memes you might have seen, the White House looked like a full on winter wonderland this year. There were lush Christmas trees, dripping icicles, fake snow dusting the surfaces, and all the twinkling lights you could ever ask for. So, who decorates the White House for Christmas? Hint: it wasn't quite Santa's elves.
Over 100 volunteers descended on the White House last month to deck it out with lots and lots of holiday cheer (and quite possibly the nicest gingerbread house you will ever see), per Vogue. Competition for the volunteer positions was stiff and space was limited. Those interested in taking part in the extravaganza filled out an application which, according to one volunteer, included an essay portion (so basically like the SATs of holiday decorating).
Jeremy Jansen was one of the lucky few selected for the task, and told The Daily Republic that he was asked to write a statement explaining why he wanted to volunteer. Once picked, Jansen spent three days straight working in the White House, and it lived up to all of his expectations.
"It was very surreal," he said. "It was like, 'Wow, this is actually happening.' I didn't want to get too hyped up about it beforehand, but I was very excited."
I mean, fair enough. Just look at how majestic the whole thing was.
It's not quite clear what criteria volunteers have to meet in order to make the cut. Bryan Rafanelli, who oversaw the White House's holiday decorations in 2015 and 2016, told Vogue that a wide and varied selection of applicants are chosen.
"Lots of teachers and folks who served in the military, caregivers, nurses," he said. "It wasn't that we had 100 creative genius designers — people flew in from all over the country to do this."
David and Rebecca DellaTorre, a couple from Springfield, Massachusetts, thought their work in the florist industry might have given them a leg up.
"I'm sure that the family business is one reason we were selected," David DellaTorre told MassLive. "We wrote on the application about my grandparents founding the business and about how we are the third generation." DellaTorre added that it was great fun to get a behind-the-scenes look at the White House, saying,
It was special to feel free to roam, to look at the artwork. Just to work in a room and take it all in. I'm sure this is a better experience than you would have just walking past on a tour.
Volunteers were divided up into five teams and were asked to decorate the White House's 55 Christmas trees. The theme was "Time-Honored Traditions," and Rafanelli explained to Vogue that each administration's decorations take on a very specific and unique meaning.
"Some were very traditional. Many of Barbara Bush's holidays wrapped around Alice in Wonderland, or something very child oriented," he said. "Also, the Reagans — they really gilded the house. They had garlands hanging on every sconce."
This year's decorations included (deep breath here) an 18-foot fir tree in the Blue Room, a 350-pound gingerbread house, 71 wreaths, over 18,000 lights, over 12,000 ornaments, over 3,100 yards of ribbon and around 1,000 feet of garland, according to the White House.
The whole thing took 1,600(!!) hours to complete, USA Today reported.
The results definitely made all those many, many hours worth it.
*Sigh.* See? It's not at all like that weirdly gothic snapshot that Stephanie Grisham, the White House Director of Communications, posted. Your nightmares can go away now.
Many snaps to all the hard working volunteers who managed to *momentarily* make the White House seem like a warm, happy place.