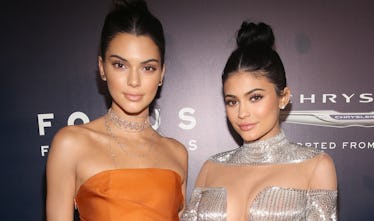 Kendall & Kylie Jenner Teased A Mysterious New Project On Instagram & Fans Can't Deal
Kendall and Kylie Jenner are up to something. The two seem to have created an Instagram account called "Pizza Boys." It was just created on Wednesday, March 28, and the account already has nearly 50,000 followers thanks to Kendall Jenner's post about it on her Instagram story. So who are Pizza Boys? I literally have zero clue what this could be, but we're going to figure this out together, friends. Whatever it is, the Instagram account was either created by Kendall Jenner and possibly Kylie Jenner, or they're just on board to promote this account for whatever reason.
When Jenner first posted a screenshot of the @PizzaBoys account to her Instagram story, the screenshot showed the account had only 786 followers. Now, that number has grown to 479,000. The account only has three pictures posted so far. One says "COMING," another says "SOON," and the third photo, placed right between the other two, shows Kendall and Kylie Jenner in a pool holding what looks to be pool floats shaped as pizzas. Fitting. According to Daily Mail, Kendall Jenner used to be connected to a DJ group called "Pizza Boys" in the past. Before you ask, it doesn't seem like Jenner was a DJ herself. She just supported the group and was seen wearing Pizza Boys merch from time to time.
Now, it looks like her involvement with Pizza Boys has rekindled with this new Instagram account and promotional photo.
I'm not going to lie, "In crust we trust" is a f*cking fantastic motto. Great, now I want pizza. The new Pizza Boys account only follows two people: Kendall Jenner and a private account called @SweetBoyDaniel. The account doesn't even follow Kylie Jenner, even though she follows both @PizzaBoys and @SweetBoyDaniel. The shade. The Jenners have provided no further context about this Pizza Boys account, so we'll have to see what comes of it.
Fans are really confused by all of this though, and likely will stay confused until someone explains what's going on here. Seriously, Kendall, what is going on here?!
Comments ranged from "Are you guys selling pizza?" to "What does this mean? Why is there a pizza in the pool?!" Could this even be a new clothing line?
Kendall Jenner was first connected to Pizza Boys back in 2016. She posted this selfie with @SweetBoyDaniel himself on Jan. 17, 2016.
She also once posted a group shot of her and a few friends wearing sweatshirts that said "Pizza Boys" on the back. According to Daily Mail, the post was captioned, "'ZAZAXVDAY.'"
Jenner also got a bit of hate in August of 2017 for posting a photo of her wearing a see-through top on Instagram. (This has to do with Pizza Boys, I promise.) Her nipples were visible in the photo (#FreeTheNipple), but she covered them up with pizza emojis and posted the photo to Instagram. (It has since been deleted.) Jenner wrote about the choice to post the photo with pizza emojis on her blog (which doesn't exist anymore) after she received hate for the picture.
According to Teen Vogue, she said in the blog post,
I took this photo over the summer in New York. I don't know if you can relate, but I just felt like I was having a really good boob day, lol. Do you know what I mean? Your boobs go through phases and on this particular day, I felt like they just looked nice! :) My shirt was see-through, so I took this photo and just texted it to Hailey and Gigi before I left to meet them and was like, 'Is this too much?' They wrote back, 'It's kind of a lot, but if you're into it, go for it!'
It's safe to assume Jenner means Hailey Baldwin and Gigi Hadid when she references "Hailey and Gigi" in the post. This is where Pizza Boys comes in. Jenner said in the post that she chose pizza emojis to cover her nipples as a shoutout to Pizza Boys. She said, "I chose [pizza] as a little nod to Pizza Boys (the DJ/friend group I'm part of)." And now, it looks like her friendship with Pizza Boys is about to become relevant again. While the possibilities for what this account will be are endless, maybe they're helping to promote a Pizza Boys merchandise line? Maybe Kendall and Kylie are modeling for the cover art of a Pizza Boys album? Who knows. Stay tuned for more pictures from the @PizzaBoys account, which I can only hope will consist of photos of Kendall and Kylie Jenner eating copious amounts of pizza.