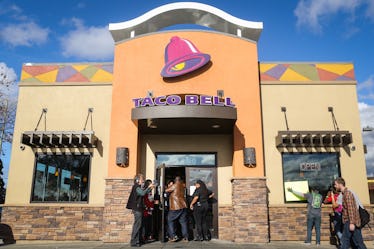 Check Your Taco Bell Queso Dip, Because There's A Big Recall
Elijah Nouvelage/Getty Images News/Getty Images
Amidst the news of Ritz and Pepperidge Farms' salmonella scare, America's favorite Tex-Mex chain is now jumping on the recall train. Kraft Heinz Co. announced that it is voluntarily pulling thousands of bottles of one of Taco Bell's most popular cheese dips due to suspicions of botulism, a serious kind of food poisoning. Here's what you should know if you are wondering which Taco Bell Queso Dips are recalled and if you should be dumping your cheese sauce ASAP.
In a press release shared on Tuesday, July 24, the food giant announced that it plans to swipe 7,000 cases of the fast food chain's popular cheese dip from retailers' shelves because of one worrying detail. According to the company, the dips have been showing signs of "product separation," which is one factor that can lead to botulism. According to Kraft Heinz Co., the product in question — 15-ounce glass jars of Taco Bell Salsa Con Queso Mild Cheese Dip — is showing signs that it could potentially cause a very serious form of food poisoning, in turn leading to extreme sickness or even death for its consumer.
The affected jars have a "best when used by" date that ranges from Oct. 31, 2018, to Jan. 23, 2019, so you'll want to check yours to see if it falls within that range. While the company said that no one has complained about getting ill and they haven't received any reports of illness so far, it's still better not to risk it.
Taco Bell tells Elite Daily that customers can contact Kraft Heinz at 1-800-310-3704 Monday through Friday, 9 a.m. to 6 p.m. ET, for a full refund on their purchase. In addition, you can return the affected product to a store for an exchange or a refund.
"The health and safety of our customers is our top priority, and that doesn't change with our co-branded products with Kraft Heinz," a Taco Bell spokesperson tells Elite Daily in a statement. "We support Kraft Heinz in taking action to voluntarily recall the Taco Bell Salsa Con Queso Mild Cheese Dip from grocery stores and their distribution centers."
They also clarified, "This voluntary recall by Kraft Heinz does not involve any products or ingredients sold in Taco Bell restaurants," so you can still get your queso fix by heading to your nearest location and ordering it off the menu.
Per the Center for Disease Control, symptoms for botulism start with weakness in the muscles of the face, and your eyes, mouth, and throat can all be impacted, as well as your breathing. If left untreated, botulism toxins can then spread down your neck to your arms, torso, and legs. Other signs include blurred vision, slurred speech, difficulty swallowing, and dry mouth, according to the CDC.
Kraft Heinz warned that even if your product looks and smells fine, it's better to dump it if its sell by date falls within the affected time period.
It sounds like Taco Bell knows that it's better to be safe than sorry, and you can still "live más" by visiting the Tex-Mex eatery and order a serving of queso with some of the chain's limited-edition nacho fries.