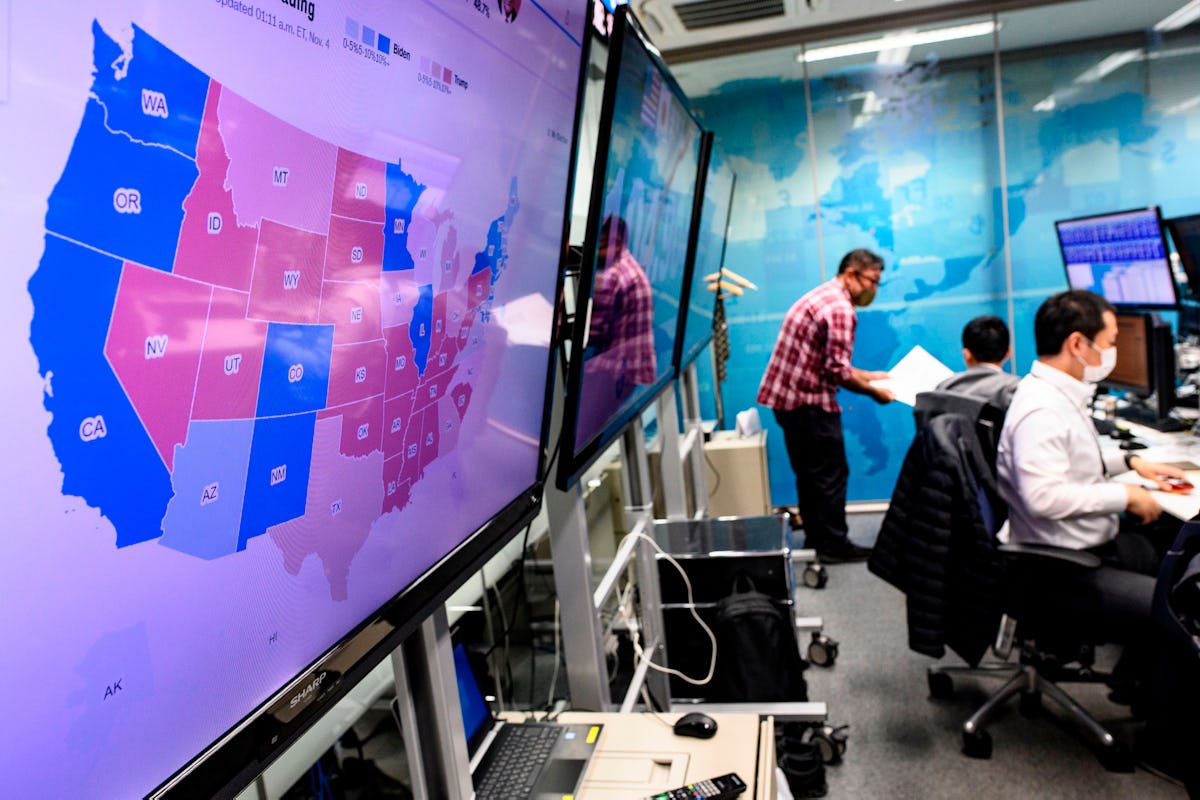 Here's Why Some States Weren't Called Over A WEEK After Election Day
PHILIP FONG/AFP/Getty Images
Following an exceedingly exhausting election night of highs, lows, and about a million flip flops in favor of both candidates, the uncertainty Nov. 3 continued well into Nov. 4 and the days beyond. By Nov. 4, several key battleground states had yet to be called in favor of either presidential candidate. According to the New York Times' map of presidential election results at the time, a whopping eight states' results were still being determined as of Nov. 4. Finally, on Saturday, Nov. 7, news networks called the election for former Vice President Joe Biden, including The New York Times, CNN, and The Associated Press.
After the news networks called Pennsylvania and its 20 electoral votes for now President-elect Biden on Nov. 7, the big question was answered — but four states were still finalizing their tallies as of 10:30 a.m. ET on Nov. 9, per the Times tracker: Alaska, Arizona, Georgia, and North Carolina. Each of these states excluding Alaska, where a hefty chunk of initial votes were still being counted, teetered between both President Donald Trump and former Vice President Joe Biden for the entirety of election night. As of Nov. 9, Arizona, Georgia, and North Carolina had at least 98% of the votes tallied, while Alaska only had 56% of the votes reported. The delay in definitive results was largely the result of states continuing to sift through mail-in ballots. This was due, in part, to the fact several states have laws governing exactly when election officials could begin counting absentee ballots.
What was particularly difficult about the states that were yet to be called before Nov. 7 was the fact that most of them were major battleground states and hold a sizable chunk of electoral votes. The outstanding states' vote count became a bit more inconsequential after the race was called for Biden, but these final states determined how many electoral votes each candidate wound up with.
Finally, by Nov. 13, every state was called for their respective candidate. Wisconsin and Michigan were called for Biden on Thursday, Nov. 5, and Pennsylvania and Nevada were called for Biden on Saturday, Nov. 7. Arizona was called for Biden on Nov. 12, and Georgia was also called for Biden on Nov. 13. When all was said and done, Biden won the election with 306 electoral votes over Trump's 232.
It was a tense situation prior to Nov. 7, since the battleground states can quickly flip the number of electoral votes for either candidate. On Nov. 4, Biden and Trump sat neck-and-neck in electoral votes — 224 and 213, respectively, according to CNN. Even after the race was called, people were still very invested in the results, especially in places like historically red Georgia, which flipped to blue, and where there will also be two runoff Senate elections in January 2021. Those runoffs will decide whether the Democrats gain control in the Senate or if Republicans remain in power.
The reason the vote-counting took a long time was because Alaska, Arizona, Georgia, Michigan, North Carolina, Pennsylvania, and Wisconsin, according to NPR, were not allowed to begin counting mail-in votes until Election Day.
Editor's note: This post was updated at 10:30 a.m. ET on Nov. 23 to include updated information on states' vote counts.
This article was originally published on