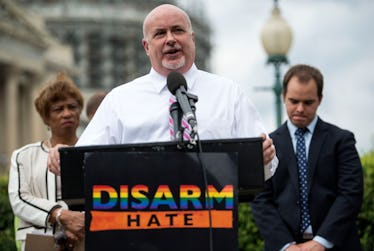 Here Are The Politicians Who Are Backing A Bill To Abolish ICE Immediately
Leigh Vogel/Getty Images Entertainment/Getty Images
Among the many reasons that Alexandria Ocasio-Cortez's House primary win in New York was notable, there's the fact that she ran on an ambitious set of campaign policies, including a goal to abolish the Immigration and Customs Enforcement agency (ICE). Abolishing ICE is a political ambition that has slowly, but surely, been gaining prominence among liberal circles. To truly gage the rise of what could become a popular campaign staple among Democrats, it's worth looking at which politicians support abolishing ICE, as things currently stand.
At the time of writing, four Democrats in Congress have endorsed abolishing ICE, and all of them are members of the House of Representatives.
The most notable of those members is Wisconsin Rep. Mark Pocan. Why? Because he has introduced a bill that, if signed into law, would abolish ICE and transfer the agency's most necessary functions to other existing agencies.
In an interview with Rolling Stone, Rep. Pocan said that the motivator for crafting legislation to abolish ICE was President Trump tweeting about deporting migrants immediately without granting them court cases.
"The catalyst for [the bill] was over the weekend Trump saying he's going to perhaps get rid of due process, as well," Rep Pocan told Rolling Stone. "You can't increase the activities of ICE and then get rid of due process and pretend you have a democracy anymore."
Among the three House colleagues backing Rep. Pocan's bill is Washington Rep. Pramila Jayapal, who has been a lead organizer for the nationwide Families Belong Together rally, which will be held on Saturday, June 30.
In a June 19 interview with Democracy Now's Amy Goodman, Rep. Jayapal provided a direct answer when asked about her stance on abolishing ICE.
"As you might know, I did a report back in 2008 on the abuses within the ICE detention system," the 52-year-old congresswoman told Goodman. "I have a bill to reform the detention facility overall. And, yes, I would love to see ICE go."
The two other House members endorsing Rep. Pocan's bill are Oregon Rep. Earl Blumenauer, who wrote an article on the blogging platform Medium about why he supports abolishing ICE, and Massachusetts Rep. Jim McGovern.
In a recent press conference, Rep. McGovern said that ICE's primary function had become to "rip families apart," and for that reason has to be abolished.
The Rolling Stone interview of Rep. Pocan, and other write-ups about #AbolishIce, credit the popularization of the term to Sean McElwee, a liberal writer and contributor at The Nation.
McElwee has since kept a log of politicians who have endorsed abolishing ICE, complete with links to statements in which they publicly endorse the policy proposal. What the log — and numerous news accounts show — is that firm endorsement of abolishing ICE is something that is much more popular among Democrats seeking election to House seats.
No Senate members, including potential 2020 presidential candidates like Vermont Sen. Bernie Sanders and California Sen. Kamala Harris, have formally endorsed abolishing ICE. To the contrary, Sen. Harris maintained that the organization should exist, but with reform.
To Sen. Harris' point, it's worth noting that there can be a drastic difference between the way an agency operates and is perceived under one president, versus another.
In an interview with Slate, a former official of President Barack Obama's administration, Cecilia Muñoz, said that the acting director of ICE, Tom Homan, was unrecognizable from the same Tom Homan that worked in ICE under Obama.
That guy feels very different to me than the guy I see on TV. Look, we know that officials in the Trump administration when they go on TV, recognize that there is one very important person watching everything they say, and that is the president of the United States. They adjust their rhetoric accordingly. It was pretty shocking. It was shocking for me to see that kind of rhetoric coming out of a guy who I experienced as a more thoughtful person, and I honestly don't know what the truth is.
The point of Muñoz's interview was clear. The orders at ICE come from the top, and the top can drastically change how those following the orders act. So there very well could be a scenario in which a Democratic president gets elected, and "abolish ICE" suddenly no longer become a rallying cry.
But if there's one thing that the Obama presidency has proven — as will the Trump presidency in its aftermath — it's that policies not locked in law are vulnerable to shift from administration to administration.
So those who truly want to abolish ICE, will likely keep rallying supporting, no matter what the result of the next presidential election is.