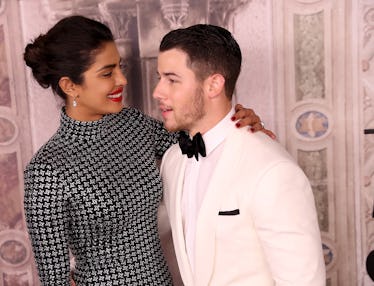 Priyanka Chopra & Nick Jonas Will Reportedly Get Married In This 347-Room Palace, No Biggie
Rob Kim/Getty Images Entertainment/Getty Images
Priyanka Chopra may have friends in high and royal places (one of her BBFs is Meghan Markle), but that doesn't mean she can't feel like royalty herself sometimes. And she and husband-to-be Nick Jonas will certainly feel that way on their wedding day. The couple is reportedly getting married at a venue that's suited for royalty. So, where will Priyanka Chopra and Nick Jonas get married? Well, according to The Sun, the two stars will tie the knot at a fancy palace in India. Elite Daily reached out to Chopra and Jonas' teams for confirmation on the report, but did not hear back by the time of publication.
In a Nov. 11 report, The Sun revealed that Jonas and Chopra have selected an incredibly beautiful venue for their upcoming wedding. The lovebirds are reportedly set to marry on Dec. 1 at Umaid Bhawan Palace, in Jodhpur, India. According to Marie Claire, the palace is one of the largest private residences in the world. And with 347 total rooms, that's actually not surprising. The palace also includes a hotel which has a 9.8 rating on Booking.com. So, Jonas and Chopra chose a top-notch venue, for sure!
A source close to the situation told The Sun that the wedding will be preceded by a week of various activities.
"There are several events leading up to the wedding, including a Christian ceremony, which will all be in India," the source explained before detailing some of the events that are being planned. "They will culminate with the Indian wedding on December 1 at the palace, where they will tie the knot under a traditional four-pillar structure, a mandap. There is a mehndi event planned, where they will be decorated with henna body art, among other traditional Hindi pre-wedding events."
Trust me when I say they'll have plenty of room for the festivities. Check out the castle below:
Wow, sounds and looks like this is going to be a wedding to remember! I'm sure all those invited will be having the time of their lives! As for Jonas and Chopra themselves, they're also in the process of planning more practical things, like what they'll be wearing during the Christian and Indian ceremonies they have planned.
"Nick will wear ivory and Priyanka will be in red, while the bridesmaids will wear Ralph Lauren outfits for the Christian wedding, because the couple wore the brand at their first public appearance together at the Met Gala last year," the source told The Sun. "The festivities begin in the last week of November. They're relishing every minute."
Ahh, this wedding sounds so amazing already! And they've pulled it together in such a short amount of time which is incredible. Remember, they only got engaged in July, just two months after they went public with their relationship. So, they've moved really fast with all these amazing plans! All that said, though, the wedding plans have been in the works for a little while now.
In a September 2018 report from Us Weekly, a source close to the couple said that planning was already underway.
"They really want to blend wedding traditions from both of their cultures that are important to them," the source explained. "Priyanka is having a really good time planning the wedding because it's a mix of Indian and American styles and customs, which she knows so much about."
So, Jonas and Chopra have been at this for a while and it looks like all their plans are paying off!