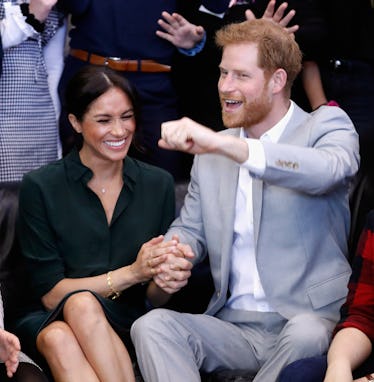 Here's Where Meghan & Harry's Baby Will Fall In The Line To The Throne
Chris Jackson/Getty Images Entertainment/Getty Images
Prince Harry and Meghan Markle are having a baby! Kensington Palace announced the news on Oct. 15 that a little guy or girl will be arriving in spring 2019, so the countdown is officially on! And if you're anything like me, you're 1) completely fascinated with all the intricacies of royal life and 2) now wondering where will Meghan and Harry's baby be in line for the throne? The baby will be seventh in line, bumping Prince Andrew — the second son of the Queen — into eighth place. Sorry, dude.
According to Time, here's how the new line of succession will fall out: Prince Charles, Prince William, Prince George, Princess Charlotte, Prince Louis, Prince Harry, Harry and Meghan's unborn child, Prince Andrew, Princess Beatrice, and then Princess Eugenie.
So how was this order decided on? The way it works is that the eldest son of the Queen, followed by all his descendants, are in line for the throne first. They are then followed by the Queen's second eldest son and all of his descendants, and so on.
Sadly, Duchess Meghan is not in the line to the throne (and neither is Kate Middleton, even though her husband Prince William is second in line).
But here's some good news for Prince Harry and Meghan Markle's unborn baby: Gender won't come into play in the line of succession. Because in 2013, the U.K. Parliament passed a law called the Succession to the Crown Act, which states that succession of siblings should be determined by age, not gender.
YASSS, Parliament!
So that's why 3-year-old Princess Charlotte didn't lose her fourth place spot to her 5-month-old baby bro, Prince Louis, in case y'all were wondering.
Man, I just love that child!
News first broke that the Duchess of Sussex is expecting on Monday, Oct. 15, when Kensington Palace posted a photo of Meghan Markle and Prince Harry on its Twitter feed.
"Their Royal Highnesses The Duke and Duchess of Sussex are very pleased to announce that The Duchess of Sussex is expecting a baby in the Spring of 2019," the tweet read. "Their Royal Highnesses have appreciated all of the support they have received from people around the world since their wedding in May and are delighted to be able to share this happy news with the public."
According to Daily Mail, Prince Harry and Meghan Markle revealed their pregnancy news to Queen Elizabeth and the rest of the royal fam at Princess Eugenie and Jack Brooksbank's wedding in Windsor on Friday, Oct. 12.
The publication also reported that Markle has already had her 12-week scan and is believed to be due in late April.
Meanwhile, the couple is now in Australia for the beginning of their first major overseas tour as a married couple, that will take them through Australia, New Zealand, Fiji, and Tonga, so I really hope the Duchess is not experiencing any morning sickness because that would just suck.
Either way, this is officially happening, people! Let the royal bump watch begin!