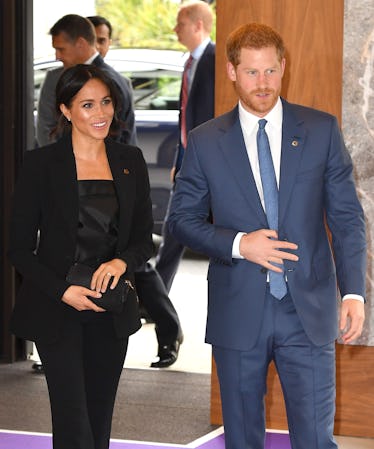 Meghan & Harry Reportedly Don't Want To Raise Their Kids At The Palace For A Sad Reason
Jeff Spicer/Getty Images Entertainment/Getty Images
I love the holiday season more than anything, but the one downside is that I'm too busy shopping for presents and chugging eggnog to remember to check in with my favorite royal family. And of course, as soon as I stepped away from the computer, some major things happened with the Duke and Duchess of Sussex. For instance, the reported revelation that Prince Harry and Meghan Markle are apparently moving out of Kensington Palace. So, if the couple reportedly isn't staying and building their family at the Palace, where will Meghan and Harry raise their kids? It looks as though the pair will be moving to Frogmore Cottage on the Windsor Estate for a pretty understandable reason.
If you're wondering why exactly the expecting parents are moving out, it's because there are reports that there is "tension" between brothers Prince Harry and Prince William. The Daily Mail reported that, while Harry "loves his brother and his little niece and nephews," he wants to move away from Kensington Palace because "he wants to escape the goldfish bowl of royal life for the sake of his marriage and his unborn child." The source also claims that Prince Harry and William are "still incredibly close, closer than most siblings" but now that Meghan Markle is expecting, it's the perfect time for Prince Harry "to be planning his own future." Elite Daily reached out to Kensington Palace regarding the report, but did not hear back by the time of publication.
Hmm. Whether I believe the reason or not, I still find it so understandable as to why Meghan and Harry would want to make a space for themselves and their growing family. Plus, let's be real: Does anyone want to live in that close of proximity to their in-laws?
A little space is basically necessary.
According to The Daily Mail, Prince Harry also reportedly would like his children to have more privacy than his brother's children, George, Charlotte, and Louis. The publication notes:
The Cambridges have their garden in the back, which is nice, but there is no real other space for children to play in. Frogmore, which is inside the Windsor security zone [where the main house is only open to the public for a couple of days a year] is secluded, peaceful, tranquil and, most importantly, private. No one will see them coming or going.
Sounds legit to me!
This report comes just after the Sunday Mirror revealed that Meghan Markle's mother, Doria Ragland is reportedly moving to Windsor Estate with the couple. Elite Daily reached out to Kensington Palace to inquire about the reports, but did not hear back by the time of publication.
A source told the Sunday Mirror on Saturday, Nov. 24, that with their first child on the way, "there wasn't the option of the Duke and Duchess staying at the palace as Nottingham Cottage is tiny and none of the bigger apartments are available." Just to compare: Frogmore Cottage has a whopping ten bedrooms, meaning Markle's mother would have more than enough room to stay with her daughter and grandchild whenever she pleases.
"Doria will be staying with them for quite long periods and they need a larger place," the insider added, noting that the royal couple may be putting aside a separate wing in the cottage whenever Ragland needs to come and stay for extended periods of time.
Whatever the case may be, I'm super excited to watch Prince Harry and Meghan Markle grow their little royal family.