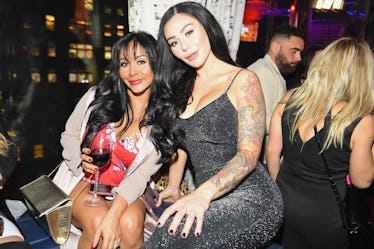 JWoww & Snooki's 'Mom's With Attitude' Will Keep You Fist-Pumping After Jerzday's Over
Dave Kotinsky/Getty Images Entertainment/Getty Images
One of the best parts of Jersey Shore has always been Nicole "Snooki" Polizzi and Jenni "JWoww" Farley's totally genuine friendship. No matter what's going on in the house, Snooki and JWoww are there for each other, and it's always great to see them stick together through life's ups and downs. All these years later, the two are still super close, and they're currently starring in a web series, Moms With Attitude, about embracing motherhood. The series is a must-see for Jersey Shore fans, so naturally, you're probably curious where to watch Moms With Attitude. Well, you're in luck: watching Moms With Attitude is so easy that even a very drunk Snooki could do it.
Moms With Attitude first premiered in November 2015 on Go90, Verizon's online streaming platform. Each week, Snooki and JWoww release new episodes about their everyday lives with their kids, and the episodes cover everything from birthday parties, crafting ideas, kid-friendly workouts, and more. Here's the show's official description:
From the club to the crib, Snooki and JWoww of Jersey Shore fame are swapping bottle service for bottle feeding. As always, these two keep it real and filter free as they navigate the crazy new world of motherhood.
As of now, there are two full seasons of Moms With Attitude on Go90, and you can watch all 100 (yes, you read that right) episodes right on the website, totally for free! With 40 episodes in Season 1 and 60 episodes in Season 2, you'll have enough Snooki and JWoww to keep you satisfied long after Jersey Shore Family Vacation ends.
If you're a die-hard Snooki and JWoww fan, the best part of Moms With Attitude will be getting to see their kids. Snooki has two kids, Lorenzo and Giovanna, with her husband Jionni, who played a big role in later seasons of Jersey Shore. JWoww also has two kids, Meilani and Greyson, with her husband Roger, who she met during Season 3 of Jersey Shore. The stars post a lot about their children on social media, but those posts don't give fans the inside scoop on motherhood like Moms With Attitude does. The kids appear in pretty much every episode, and whether they're helping out their moms with a homemade Fathers' Day gift or learning about how to portion control their snacks, they always throw a hilarious (and cute!) wrench into Snooki and Jenni's plans.
There's nothing Snooki and JWoww won't talk about on Moms With Attitude. Snooki's bob job, portion-controlled snacks, having sex while pregnant, girls' nights out, and more are all fair game on the entertaining web series. Obviously, the reality stars are used to sharing their lives with fans, but the series is way more intimate than Jersey Shore ever was. And honestly, it's great, because Moms With Attitude really makes it feel like we're just hanging out with them in a totally normal, genuine moment in their lives instead of watching them on a hyper-organized MTV reality show.
Moms With Attitude isn't Snooki and JWoww's first reality TV project post-Jersey Shore. After the show ended in 2013, the best friends were given their own spin-off series, Snooki & JWoww. The MTV series followed the two as they lived together and partied in Jersey City, New Jersey, and it was a huge hit with fans desperate to get some more time with their favorite guidettes. The series was originally planned to be a simple Jersey Shore spin-off, but that all changed after Season 1 when Snooki learned she was pregnant. Throughout the show's next three seasons (it ran for four total), Snooki and JWoww transitioned into motherhood, and fans loved going maturing with them. When Snooki & JWoww ended in early 2015, the two were in full-fledged mom mode, so it made sense that they started Moms With Attitude just a few months later.
If you just can't wait for Jerzday to roll around every week, Moms With Attitude will be the perfect thing to help get you through. And now that filming for Jersey Shore Family Vacation is done, we may even get some new web series episodes soon. I'll be praying to the fist-pump gods about that one.