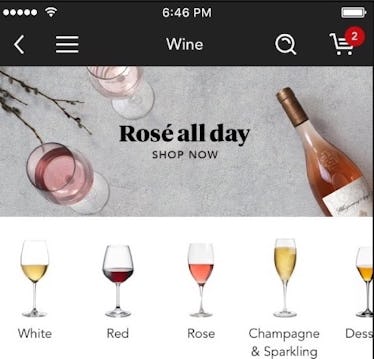 Where To Get Wine Delivered On Thanksgiving Because You'll Prob Need It
When it comes to Thanksgiving, there are just some essentials that make the holiday feel complete. Of course, there's turkey and stuffing, pumpkin pie, and when you need something to wash all of that down, there's wine. Now, Thanksgiving is a notoriously busy holiday, and sometimes you forget (or run out of!) something. Never fear, 2017 is here to make sure that you don't want for anything on the tastiest Thursday in November. Read on to find out where to get wine delivered on Thanksgiving, so you can field all the questions about your personal life from your relatives while still keeping a smile plastered on your face.
Grocery shopping for Thanksgiving can be a daunting task. More specifically, shopping for just how much booze you might need, now that you've moved up from the kids' table, is nearly impossible. Until you were tasked with the responsibility, you probably didn't realize that the stress of making the perfect stuffing can make a glass of Cab Sauv disappear faster than you can whip up that box of Stove-Top Stuffing you bought (just in case).
As long as your phone is charged up — and you've downloaded the right apps — you won't have to worry about winning a game of "rock, paper, scissors" to snag the last glass of red from Aunt Betty. Here's what you need.
Minibar Delivery App
The Minibar Delivery app partners with local liquor stores to coordinate the delivery of the your vino. With active delivery in over 30 markets across the U.S., it's likely that your family-packed home will be in their delivery area, but you can double-check by entering your delivery address. If you're good to go, your available drink selections will show up, and then you can order whatever you need.
The best part? Your wine will show up to your door in less than an hour — just in time for the annual charades competition.
Saucey App
The Saucey app will also deliver the good stuff straight to your door if you're celebrating in San Francisco, Los Angeles, San Diego, or Chicago. Even better news, you can get $10 off your first order when you sign up.
Plus, there are no additional delivery fees or minimum dollar amounts you need to meet just to place your order. So, if you're the only one hankering for that extra bottle of Merlot, go ahead and order it without worrying about trying to rack up $50 of wine. Nothing complements pumpkin pie like a bold red, right?
Drizly App
The Drizly app is another option to replenish the adult beverages at the Thanksgiving table. Drizly works with local stores to give you the best selection and the ability to compare prices all right there in the app.
Delivery is available all across the U.S. in cities like Los Angeles, New York, Austin, and Boston. You can check here to see if your city is on the list. It's likely that it is, because the Drizly even delivers to Alberta, Canada. If you're not into delivery fees, you can always send the designated driver to pick up your order in-store (with no extra fees added.)
Amazon Prime Now App
Did you splurge on an Amazon Prime subscription to get all of your holiday shopping done from the comfort of your own home? That $99 will come in hand on Thanksgiving when you realize that Uncle Fred's harvest punch is more like high-octane jet fuel. With a press of the Prime Now app, you can order wine in cities like Phoenix and Seattle to be delivered within the hour.
For an $8 delivery fee, you can get a bottle of bubbly to celebrate your cousin's surprise engagement delivered to the house in less than an hour. If you can contain the excitement, your wine can be at your doorstep (with no delivery fee) within two hours.
The holidays are best spent with close friends and family, and no one wants to stress out about running low on libations. So, make sure you update your phone with these wine delivery apps, and your Thanksgiving will go off without hitch.
Check out the entire Gen Why series and other videos on Facebook and the Bustle app across Apple TV, Roku, and Amazon Fire TV.