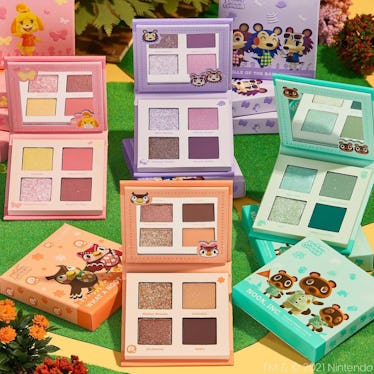 ColourPop's 'Animal Crossing: New Horizons' Collab Is A Springtime Fantasy
Courtesy of ColourPop
If there's one thing that got me through quarantine, it's Fg. Opening my little brother's Nintendo 3DS that hasn't been used in probably a decade and doing my little tasks like fishing, fossil hunting, and talking to my villagers has granted me a strange amount of comfort throughout the COVID-19 pandemic. Now, I can take my favorite characters from the screen and add them to my beauty routine. ColourPop's Animal Crossing: New Horizons Collection drops on Jan. 28, so it's time to stock up on bells.
The ColourPop x ACNH collab has a ton of products that both you and your villager are going to want. For eyes, there are four four-pan eyeshadow palettes inspired by some of the most integral members of your island. Isabelle's palette features soft pinks with a pop of yellow to match her style. The always-stylish Abel sisters, naturally, have an all-purple colorway, while Nook Inc. has mint, olive, and dark green options. Even the museum curator Blathers gets a palette with natural browns and peachy shades.
ColourPop x ACNH also includes three Lip Tint duos that'll give your lips a moisturized, glossy look with juuuuust a hint of color. There are also two powder blushes in peachy and rosy shades. The one product that really caught my eye, though, was the Glitterally Obsessed gel that looks just as shiny and sparkly as bells. Of course, it wouldn't be a true ColourPop collection if it didn't include a Super Shock Shadow. Giving me ACNH-realness, the shadow is a mocha-colored with gold shimmers that would leave Brewster quaking.
The entire line is dropped 1 p.m. EST, and, given how quickly other ColourPop collabs like Sailor Moon and Raw Beauty Kristi sold out, you'll want to hop on this drop quickly. However, if you did miss your first chance to buy, you don't have to twiddle your thumbs while waiting for a restock. On Feb. 14, the entire line will be available through Ulta Beauty. No need to go Shampoodle to update your beauty looks this time.