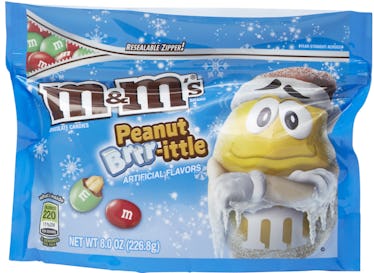 Peanut Brrr-ittle M&M's Are Here For The Holidays & This Is Where You Can Get Them
M&M's
'Tis the season to buy all things holiday-themed at your favorite stores. Before you get lost in the merry aisles, there's one very tasty reason to head to Target in particular. The retail chain has an exclusive M&M's flavor this season, and anyone who loves peanuts is going to want a taste of their Peanut Brrr-ittle M&M's. And no, M&M's new flavor isn't the same as the candy brand's classic Peanut M&M's. Go ahead, make this reason No. 9,859 to stop into Target for a "quick" shopping trip. Now that you know where to get Peanut Brittle M&M's, let's talk about how they taste.
What Do They Taste Like?
According to popular junk food blog Junk Banter, the Peanut Brrr-ittle M&M's "definitely taste different" when compared to their similar, brittle-free relative. "The flavor is certainly unique for M&M's and, quite frankly, it's very intriguing," reads a review dedicated to the flavor posted on Junk Banter. "The sweetness in Peanut Brrr-ittle M&M's is a deeper, darker one like brown sugar. It tastes nutty, slightly caramelized, roasty, and other words that I can make up on the spot." (I'm certainly intrigued by the prospect of caramel notes, which always give me cheery vibes.)
In their detailed review, Junk Banter continued elaborating on the flavor, writing that its reminiscent of another M&M's iteration: Pecan Pie M&M's. You might be wondering, do Peanut Brrr-ittle M&M's actually taste like peanut brittle, though? The answer, from Junk Banter's point of view, is not quite — but they are pretty darn close. And supposedly very tasty.
The Packaging = Festive
Junk Banter isn't the only snack blogger to call out Target's exclusive M&M's flavor. The Junk Food Aisle also shared a photo of the seasonal packaging on Instagram. "M&M's Peanut Brrr-ittle! Found at: Target," they captioned their drool-inducing photo followed by the Face Savoring Delicious Food emoji.
Speaking of the Peanut Brrr-ittle M&M's packaging, it's festive AF. A light blue resealable 8-ounce bag of the stuff comes decorated with icy white snowflake details and red and green M&M's peeking through a pretend zipper at its top. The yellow M&M featured on the bag is wearing a Santa hat and covered in icicles, appearing ready to let out a "Brrr!"
How Long Will They Be Available?
In an email sent to Elite Daily, a spokesperson for Target's exclusive flavor tells us that — though they're similar to the brand's past peanut-stuffed flavors — Peanut Brrr-ittle M&M's are a brand new, limited edition flavor. They'll be on shelves throughout the season while supplies last, the representative confirmed. Know what that means? It's time for a Target run, you guys.
On their website, Target has the festive 8-ounce bag of Peanut Brrr-ittle M&M's listed as retailing for $3.19. Somehow, the retailer's accompanying product description is even more appealing (read: jolly) than the packaging or flavor profile. It reads,
Always have a sweet treat nearby during the holiday season with a bag of festive candy. You can keep a dish stocked and full on your coffee table or in your kitchen — create a fun and jolly look by layering candy in a clear jar or dish. Fill holiday party favor bags with a variety of your favorite candies so your guests can enjoy some holiday cheer after the party is over. Whether you're leaving out candies for your holiday visitors or grabbing a handful before curling up on the couch to enjoy a seasonal movie and hot chocolate, having a bag or two of festive candies on hand is perfect for satisfying anyone's sweet tooth.
Yep. Target has created the perfect narrative for its exclusive Peanut Brrr-ittle M&M's, simultaneously giving customers like me some pro holiday hosting tips. So, tell me, how many bags are you gonna order? Peanut Brrr-ittle for all!
Check out the entire Gen Why series and other videos on Facebook and the Bustle app across Apple TV, Roku, and Amazon Fire TV.