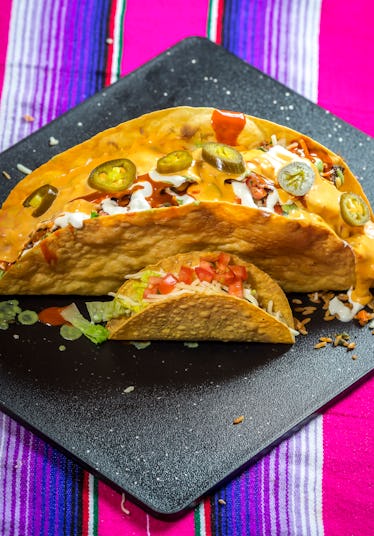 Here's Where To Find Cheap Tacos On National Taco Day If You're Broke & Hangry
Tacos are a way of life. They're versatile — sometimes crunchy, sometimes soft, and always filled with something delicious — and totally deserving of a national holiday. And my fellow taco lovers, that glorious, salsarific day is upon us: National Taco Day is Oct. 4. Here's where to find taco deals on National Taco Day so you can celebrate accordingly (aka with ALL the tacos, y'all).
Chuy's
Chuy's, a beloved Tex-Mex chain, will be selling their crunchy beef tacos for just $1 at select locations. You can score a free meal if you dress up like a taco, though. (Maybe it's time to plan your foodie Halloween costume now?) Plus, according to their Twitter, asking your server to "taco bout it" is a code for free taco, too.
El Pollo Loco
If you watch Flipping Out on Bravo, you've seen designer Jeff Lewis express his adoration for El Pollo Loco. I personally adore the chain's very generous BOGO taco platter promotion happening one day only: Oct. 4.
Don't forget to print out your coupon!
Fuzzy's Taco Shop
Fuzzy's Taco Shop plans to celebrate National Taco Day with ch-ch-cheap tacos ($1 each to be exact). They shared the news via Twitter on Oct. 1, writing,
It's National Taco Day! On Wednesday! Now that we have your attention: Tacos are $1 on National Taco Day. Which is Wednesday.
According to a subsequent tweet, the qualifying tacos include "shredded chicken, shredded brisket, special ground beef, spicy pork, tempura fish, grilled fish and grilled veggies." And yes, you can try all seven for just $7! Your budget will thank you later.
Margaritas Mexican Restaurant
Home of the Taco Gigante Challenge, Margaritas Mexican Restaurant is celebrating National Taco Day in a particularly large way. The restaurant chain, based in the Northeastern U.S., has a 12-inch (literally ruler-sized) Taco Gigante on their menu through the month of October. For reference, a company representative describes the ginormous $12.99 creation like this:
A crispy foot-long taco shell is filled to the brim with lettuce, refried beans, rice, ground beef, chicken, carnitas, cheese, salsa fresca, bacon, queso, hacienda sauce, picante sauce, crema and pickled jalapeños.
Anyone brave enough to take their Taco Gigante Challenge and attempt to eat the whole thing (you don't have to finish it) will receive a voucher for a free one.
On The Border Mexican Grill & Cantina
Beating Chuy's dollar deal, On The Border Mexican Grill & Cantina is gearing up for its bottomless 50 cent mini crispy taco offer. Two quarters, that's all they cost. Tell everyone!
Taco Bell
It should be no surprise that that the fan favorite fast casual joint is offering its customers a deal. Though they're shifting their mission to be less drive-thru and more sit-down cantina, we need to taco bout their Oct. 4 $5 "gift set".
Wrapped in special paper like the true gift that it is, the set features four of the chain's most popular menu items: a Crunchy Taco, a Nacho Cheese Doritos Locos Taco, a Cool Ranch Doritos Locos Taco, and a Fiery Doritos Locos Taco. I'm loco for it already.
Taco Bueno
Plan to get a free taco with any meal at Taco Bueno on National Taco Day. That's right, free. Sounds muy bueno, right?
Phew! That's a lot of taco deals. Be sure to check out your local restaurants on social media to see if they have anything special planned for this extra tasty day. How could they not, TBH? It's going to be a par-tay, in my humble opinion. Reminder: Tacos are best when paired with margaritas. Lots and lots of margaritas.