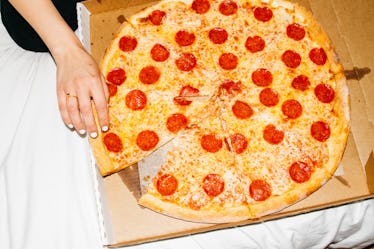 Vodka-Infused Pizza Finally Exists & It'll Be Your Favorite Meal
You guys, pizza Fridays are about to get a whole lot boozier. The end of the week generally calls for some kind of celebration. Whether it's imbibing in a happy hour Moscow mule or devouring a few slices of pizza (or both!) is up to you, but one Philadelphia restaurant is about to make that decision so much easier. Once you find out where to eat vodka-infused pizza, you can (as they say) get you a pizza that can do both.
OK, nobody says that, but it might catch on after people try the vodka-infused pizza at Scarpetta in Philadelphia. It's on the Scarpetta menu as the "Scarpetta x Stateside Urbancraft Vodka vodka pizza collaboration," per the Scarpetta Philadelphia website. BroBible reported that the vodka used in the dough and other pizza ingredients contains enough alcohol to require that you have to be at least 21 years old to order it. Thus far, the only time I've been carded for a slice of pizza was in college when I thought my driver's license was my debit card while checking out at the campus late-night pizza joint.
This Scarpetta vodka pizza collaboration is undoubtedly much classier than the 2 a.m. slices of my college days. As described by The Philly Voice, the pizza consists of vodka-infused pizza dough that's topped with layers of vodka-infused ricotta cheese, sun-dried tomatoes, and a "vodka blush sauce." I'll take two, thank you.
What are the chances you can treat your Scarpetta vodka-infused pizza as your weekend pregame session? Well, catching a buzz from this boozy pie isn't likely, but there's no law against ordering your favorite libation to wash down your vodka-infused pizza. And if you happen to snag a slice with tomatoes and cheese that spent a little extra time in their vodka marinades, you'll want to make sure that you a have ride home (just in case).
If you happen to find yourself in the Philadelphia area, you can try a slice of vodka-infused pizza at Scarpetta for only 10 bucks. Traveling to Philadelphia on a budget? No problem. The vodka pizza collaboration is on the Scarpetta Philadelphia happy hour menu for only $6. Make sure you plan your visit before summertime, because it's only available through the end of spring. What better way to celebrate April showers and May flowers than with boozy pizza?
Not only is Scarpetta totally changing the pizza game with this vodka creation, but it's doing so with a local spirits partner. Stateside Urbancraft Vodka is handmade in Philadelphia, according to the Stateside website. So, not only are you getting a totally unique flavor experience when you order a vodka pizza collaboration, you're also supporting local businesses. Talk about a tasty win-win situation.
Thanks to a little Google Maps search, I found that these two businesses are less than five miles apart in Philadelphia. Not only that, but Stateside Urbancraft Vodka gives tours of the distillery for only $10, so you can see exactly how your Scarpetta vodka-infused pizza got its boozy kick. Plus, the description of the tour says that it includes "a sample of Stateside Urbancraft Vodka" along with "a comprehensive walk-through" of the distillery's production floor. To top it all off, the tour ends with an opportunity to try their "artisanal cocktails" in the Federal Distilling Room (their cocktail lounge).
You could definitely plan a tasty (and slightly boozy) afternoon/evening that consists of checking out the distillery tour and then grabbing some vodka-infused pizza as Scarpetta (or switch it up and fill up on vodka pizza first).
Whether you plan to indulge only in Scarpetta Philadelphia's vodka-infused pizza or also hit up the Stateside Urbancraft Vodka distillery tour, it sounds like Philly has plenty of delicious ways to take in their fine city. BRB, going to book my flight to Philadelphia now.