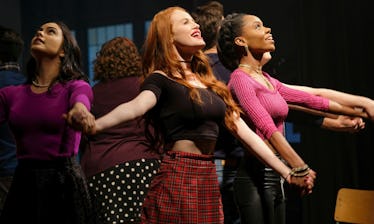 Where To Download 'Riverdale's 'Carrie: The Musical' Soundtrack So You Can Sing It 24/7
CW
Start warming up your vocal cords, Riverdale fans, because your favorite high schoolers are getting musical. The teens of Riverdale High are putting on a performance of Carrie: The Musical in the Wednesday, April 18 episode called "A Night to Remember," and things are about to get dark. Like, Cheryl going ballistic on everyone dark. There's no doubt that fans will be obsessed with the episode's songs immediately, so naturally, you may be wondering where to download Riverdale's Carrie: The Musical soundtrack. In an unusual twist, this Riverdale solution is actually pretty drama-free: downloading the soundtrack from Riverdale's Carrie: The Musical is so easy that even Nana Rose Blossom could do it.
Riverdale makes things pretty difficult for its characters, but it goes a little easier on its fans. After each musical performance in the show — and if you've been watching since Season 1 premiered in 2017, you know that there are many — The CW puts the songs on Spotify and iTunes for fans to enjoy. This means that the entirety of the Carrie: The Musical soundtrack will be available for your listening pleasure within days, or even hours, of the show airing (it's a little unclear how quickly new songs are added to Spotify and iTunes, but I can't imagine it's more than 24 hours after each episode).
As of now, there are only eight songs from Riverdale Season 2 on Spotify and iTunes, but that's all about to change when the Carrie: The Musical soundtrack hits. "A Night to Remember" will feature 11 songs from the original Broadway production of the musical, including "In," the show's opening number, "A Night We'll Never Forget," and "You Shine," a romantic ballad. This puts the total count for Season 2 songs at 19, plus whatever bonus performances we get in the season's remaining four episodes (you know there will be a Josie and the Pussycats performance or two), which is more than double the total number of songs on the Season 1 soundtrack. Basically, what I'm saying is that if you love listening to the Riverdale actors sing their hearts out, there will be plenty of material to keep your playlists fresh for weeks to come.
So, what should you expect from Riverdale's musical episode? Pretty much everyone at Riverdale High is participating in the show — even Jughead, usually too cool for musicals, plays a documentarian who observes the action (sound familiar?). The starring role of Carrie falls to Cheryl, who has much in common with the telekinetic main character. Carrie is about revenge and blood and prom, but it's also about Carrie's toxic relationship with her ultra-religious mother. More than any other Riverdale character, Cheryl understands what it's like to have a mom who doesn't understand and actively tries to harm you, so she's perfect for the title role. Carrie is also generally considered to be a redhead, so that doesn't hurt, either.
Overall, Carrie: The Musical seems like the perfect fit for Riverdale. Pretty much the entire school can sing, and Carrie's dark subject material seems ideal for a group of high schoolers constantly plagued by complicated murders, hooded serial killers, and insidious mob leaders with hilarious names (cough, Papa Poutine, cough). "Carrie felt right because it was a little less well-known, it was a little more off-kilter the way Riverdale is," creator and showrunner Roberto Aguirre-Sacasa told Variety. "And it was about high school kids — the way Riverdale is — dealing with dark themes." I mean, these kids aren't going to suddenly forget that the Black Hood is out there and start singing along to the Mean Girls musical soundtrack.
Get those playlists ready, because all 11 songs on Riverdale's Carrie: The Musical soundtrack are sure to be certified bangers.
"A Night to Remember" airs at 8 p.m. ET Wednesday on The CW.