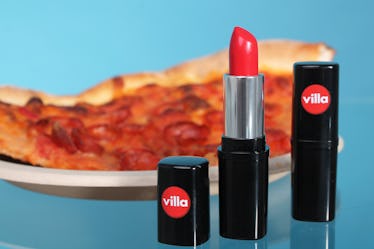 This Lipstick Tastes Like Pepperoni, So All Your Kisses Can Be Extra Zesty
Courtesy of Villa Italian Kitchen
I'm pretty sure the universally accepted symbol of love isn't a heart...it's pizza. Seriously, who doesn't love a whopping cheese-and-sauce-laden pie? If you want to treat your SO to something spicy on National Kissing Day, then you probably need to know where to buy Villa Italian Kitchen pepperoni lipstick. Bring home a free slice of Neopolitan pepperoni pizza to scarf down, then keep the magic going with a pepperoni-flavored smooch thanks to this zesty, mouth-watering lipstick.
In honor of National Kissing Day on April 13, Villa Italian Kitchen, the nationally beloved chain of pizza restaurants, is giving away free pepperoni-flavored lipsticks in honor of the momentous occasion. Yes, your lipstick will smell and taste just like your favorite pizza topping. Each Pepperoni Pucker Lipstick is infused with a one-of-a-kind pepperoni flavor that was designed specifically for Villa Italian Kitchen. If the delicious taste of lingering seasoned sausage on your lips wasn't enough to win you over, then ingredient list is sure to conquer your heart as well as your stomach. In addition to the pepperoni flavoring, the lipstick formula also contains peptides, which help to restore collagen and volume to the lips with continued use. No lip liners necessary!
Simply pep up your routine with a peptide pepperoni lipstick and embrace fuller lips through the magic of high-powered ingredients. Each lipstick also contains vitamins A and E, which will hydrate and soothe your lips from the inside out.
Of course, the lipstick itself is red, much like a hearty slice of perfectly crisp pepperoni. You'll be sure to stand out in a crowd with your meat-flavored scarlet lips. With such a bold hue, kissing may be just as messy as eating a cheesy slice dripping with oil, but I'm sure your date won't mind as he or she's tasting your pepperoni lips.
The packaging itself is sleek and classic, just like Villa Italian Kitchen. With the Villa emblem right on the shiny black cap, your friends won't have to guess where they should meet you for a pie. You can rep Villa Italian Kitchen without saying a word.
Guess what, my fellow pizza lovers? This lipstick is absolutely free! You just have to win it. From now till 11:59 p.m. EST on Apr. 13, you can enter the lipstick giveaway on the Pepperoni Pucker website. Simply enter some basic info like your name, email address, home address, and nearest Villa Italian Kitchen location on the special site. Villa Italian Kitchen will choose an undisclosed number of winners at random to receive a limited edition Pepperoni Pucker red lipstick. You must be 18 years or over to enter and live in contiguous US states to enter (sorry pizza fans in Alaska, Hawaii and Puerto Rico).
The lipstick giveaway isn't even the best part! Every person that enters will receive a coupon for a free slice of Neapolitan Pepperoni Pizza at any participating Villa Italian Kitchen location. That's right. You get free pizza guaranteed simply by entering the contest. Now I love makeup, but I love pizza even more. I'd gladly sacrifice my favorite eyeliner or mascara for a pie of cheesy, gooey goodness. Even if you don't get the limited edition pepperoni lipstick, you still end up with a free slice. That makes everyone a winner in my book.
So what are you waiting for? Get yourself, your mom, and your dog walker's aunt's cousin twice removed signed up for this contest. Even if you don't end up with a scarlet pepperoni lipstick in your mailbox, at least you'll be able to have a free pepperoni pizza party with all your besties at your local Villa Italian Kitchen.