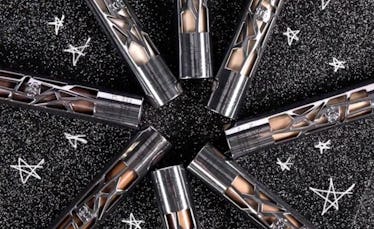 Urban Decay's New All Nighter Concealer Goes Just As Long & Hard As You Do
Urban Decay
The makeup powers that be (aka the infamous YouTube beauty gurus) have begun to speak of a new product that may possibly become known as the hottest concealer on the market, and it hasn't even launched yet. If you're wondering where to buy Urban Decay All Nighter Concealer, then you've come to the right place. There's no time to waste, my beauty loving friends, because this product will be launching (and most likely selling out) much sooner than you think.
Who among us is not an Urban Decay stan? Since the days of Lickable Marshmellow Body Powders and Pocket Rocket lip glosses, the brand has always encouraged consumers to have fun, drink that extra margarita, stay out till 3 a.m., and still look d*mn good while doing it. Now, the brand is encouraging us to stay out even later with the launch of its new All Nighter Concealer. Who needs sleep when you've got waterproof, matte, full coverage in one fell swoop? Plus, the brand swears that the concealer will work wonders for up to 24 hours. Urban Decay is really encouraging the (nonexistent, homebody) party girl in me, and I'm not mad at it. Maybe now I won't act like an 80 year-old and aim to be home by 11 p.m. If my concealer can party hardy for a full 24 hours, then I can too!
If you're a fan of Urban Decay's Naked Skin Weightless Complete Coverage Concealer, then hold on to your party hats. The pigment level was increased for the All Nighter Concealer by 73 percent! That's a lot of pigment, so there's no need to build coverage. A small little well-placed swipe of concealer is all you'll need, which is great, because who has time to layer?
The matte concealer will hide dark circles, blemishes, hyperpigmentation, the lie you told your mom regarding the real reason you were late to Thanksgiving dinner, the fact that you've only used dry shampoo and haven't actually washed your hair for the past nine days, and so many more lies, sins, and fairytales. Oh yea, it'll also straight-up cover tattoos, too.
Not only does the concealer camouflage your deepest darkest secrets, it also contains light-diffusing pigments. Light-diffusing pigments are a godsend in makeup because they optically blur skin, softening the appearance of texture, fine lines, and wrinkles. What a blessing!
Plus, the concealer also helps to control shine. I don't know about you, but my nose is actually so oily that foundation alone won't stick to it. So a concealer that will control shine is enough to make me squeal.
The concealer is launching in fourteen shades. Just like many matte liquid formulas, the brand recommends waiting for the concealer to dry before choosing which color matches you the most. It's some kind of paint-gets-darker-as-it-dries theory.
Even bonafide beauty gurus are living for the new formula: Nicol Concilio was living for the blendability and long-wearing magic of the concealer.
Kathleen Lights was also shook by how it stayed put throughout the day.
As you may or may not know, Tarte's Double Duty Beauty Shape Tape Contour Concealer is one of the holy grails of concealer, so the comparison was inevitable. However, both Nicol Concilio and Kathleen Lights couldn't say enough great things about both concealers. Let's all take a lesson from this and build each other up, shall we?
If you're jonesing for a little All Nighter fix, you won't have to wait long! The concealer, which sells for $29, will be available at Sephora, Ulta, and select Macy's stores starting Dec. 3. Of course, you can also find it online on the Sephora, Ulta, Macy's, and Urban Decay websites.