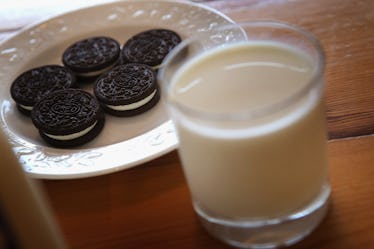 You Can Get Oreos Delivered To Your Doorstep With This Much-Needed Cookie Deal
Scott Olson/Getty Images News/Getty Images
Subscription boxes are one of the hottest freaking gifts on the planet. From boxes of beauty products to slabs of bacon, you can pretty much sign up to have anything sent straight to your door on a monthly basis. And don't get us wrong — we're super into the idea of regularly receiving the hottest makeup or meat any day, but what we've really been waiting for our entire lives is a regular supply of cookies. And luckily for us, we can now buy Oreo Cookie Club subscription boxes, and it's seriously the 2018 miracle we've all been waiting for.
Oreo fanatics, vegan cookie fans (yes, Oreos do in fact have no animal bi-products), and sweet tooths, rejoice: This is probably the best news to hit us since Nabisco came out with those rad AF Firework Oreos last summer. We realize this news is utterly mind blowing, and we're sorry we didn't prepare you, your wallets, or your dessert stomachs for this glorious information ahead of time.
Each Oreo Cookie Club Box will come to your door on a monthly basis, according to Brand Eating, and will include two different Oreo flavors. It could come with literally any flavor from the hundreds of types of Oreo cookies, and can include anything from Oreos to Oreo candy. If your Oreo preferences are specific, however, you should probably just continue buying your Oreos at the supermarket. But if you're all about those dope sugary surprises, subscribing to the Oreo Cookie Club Box should most definitely be next on your to-do list.
Cookie Club Boxes also come with some "one-of-a-kind" booty, according to Brand Eating. This could include anything from branded hats to board games, or even mugs. It can even come with a recipe card (can you say, "candy pizza"?). And we're seriously praying to the 'za gods on that one, because that sounds freaking delicious.
Since I'm guessing you're all dying to know where you can get your hands on one (or three) of these babies, subscription boxes can be ordered directly through Amazon. A 3-month long subscription costs $59.97, a 6-month subscription goes for $119.94, and a year-long subscription goes for $239.88. So if you're all about dem' Oreo's and if you're down to drop a pretty penny to feed that cookie obsession, Amazon is totally where the party's at.
In terms of fabulous cookie news, our sugar-loving nation also graced us with the sheer joy of edible Oreo Cookie dough earlier last year. The Cookie Dough Café in Chicago created a Cookies & Cream-flavored cookie dough, laced with enticing chunks of real Oreo cookies. The dough is also made eggless and Kosher, eliminating any that hella annoying risk of Salmonella or E. coli. Perfect eaten straight from the tub or scooped atop a sweet serving of ice cream, it literally sounds like any cookie lover's dream. And even if you're not Chicago-based, this glorious gift from above (er, from Chi-town), can be ordered directly on Cookie Dough Cafe's website. It's honestly such an incredible invention, we can't even contain our excitement.
If you're a diehard cookie fan — and let's face it, you probably are — becoming part of the Oreo Cookie Club is seriously the dream. So live life to the fullest (and with the fullest stomach), and get some of those good old Oreos and brand merch sent straight to your door. You won't even have to leave your house for this delightful little box of cookie heaven.
Check out the entire Gen Why series and other videos on Facebook and the Bustle app across Apple TV, Roku, and Amazon Fire TV.