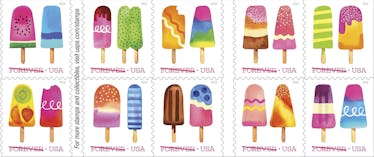 Scratch-And-Sniff Stamps Exist, So Looks Like Mailing Rent Will Finally Be Fun
In the age of email and texting, good old snail mail sometimes gets lost in the shuffle. Even so, there's always a time when you find yourself needing a stamp, and you'll probably use at least a few of them this summer. Well, get ready to make your summer mailings so festive with new Frozen Treats Forever stamps featuring popsicle illustrations from the U.S. Postal Service (USPS). Find out where to buy scratch-and-sniff stamps to make sending mail the sweetest task this season.
USPS announced its first-ever scratch-and-sniff stamps in a press release on Monday, May 21, but the stamps aren't available until they're introduced on June 20 at a "first-day-of-issue ceremony in Austin, Texas," per the release. Beginning May 21, you can preorder the beautifully illustrated Frozen Treats Forever stamps online at the USPS website, and you can continue to buy them online once they are issued. The colorful popsicle stamps are 50 cents a piece, and they are available in 10 different designs in a booklet of 20 stamps.
OK, scratch-and-sniff stamps are something I did not know I needed, but they are really giving me some nostalgic goodness. Remember those scratch-and-sniff fruit stickers that used to get you in trouble in school? These stamps are basically the grown-up version of those OG stickers (and they are actually useful).
The designs are vibrant (and seriously adorable), and each stamp features two different popsicles. Per the release, you have three people to thank for making your grade-school memories a reality again. Alexandria, Virginia-based art director Antonio Alcalá designed the whimsical stamps with Leslie Badani. As for the watercolor illustrations that really bring these popsicles to life, Margaret Berg of Santa Monica, California was responsible for injecting the fruity color palette into the designs.
Speaking of fruity, you're probably wondering what these scented stamps smell like. Unfortunately, USPS isn't releasing that sweet information until the Frozen Treats Forever stamps are officially issued on June 20, according to Mark Saunders, a USPS spokesperson. You're not totally in the dark when it comes to speculating about these scented stamps, because you might be able to glean some particulars from the stamp images and the release.
When it comes to the pictures of the stamps, a few fruits are prominently featured. So, I wouldn't be surprised if a scratch of these stamps gives off scents of watermelon, kiwi, orange, strawberry, or blueberry (yum!). Plus, if you keep your scent-detective hat on while checking out the press release, you'll see that it explains what kind of flavors are most popular in frozen treats. It reads,
In recent years, frozen treats containing fresh fruit such as kiwi, watermelon, blueberries, oranges and strawberries have become more common.
Aha! So the USPS featured the most common fruit flavors in its Frozen Treats Forever stamps. Coincidence? I think not.
While fruity flavors and designs appear most prominently in the Frozen Treats Forever stamps, the release also mentions some non-fruit flavors that have risen in popsicle popularity. Per the release, "...flavors such as chocolate, root beer and cola are also popular." So, maybe there is a possibility you could scratch and sniff away a chocolate craving when you send mail with these new Frozen Treats Forever Stamps. Of course, you won't know the exact scents until June 20.
Honestly, when it comes to mailing a letter, I do it so infrequently that I usually find myself looking up the price of a stamp every time I head to the mailbox. With these new sweet-smelling stamps (that are also so pretty), I might just have to reintroduce letter writing into my regular routine.
You might wonder how to make use for these adorable stamps. Well, if any of your BFFs are saddled with a summer birthday that falls to the wayside thanks to vacations and busy schedules, you could mail them a real-life card complete with one of the Frozen Treats Forever stamps to help celebrate their big day. Or heck, you could even opt to mail in your rent or electric bill one month just to give yourself an opportunity to use these sweet-smelling stamps.
If the Frozen Treats Forever stamps become somewhat of a "gateway stamp" (LOL), you can look forward to other stamp releases this summer (like the Sally Ride stamp on May 23). Oh, and if the Frozen Treats Forever stamps suddenly leave you parched or craving a sweet treat, you can snag a popsicle from the freezer or satisfy your craving with summer's other sweetest sip, rosé (the other way to "send it").
Really, it's up to you to decide how you want send these adorable popsicle-adorned stamps. However you use them, you're sure to enjoy making your summer correspondence a little more colorful this season.