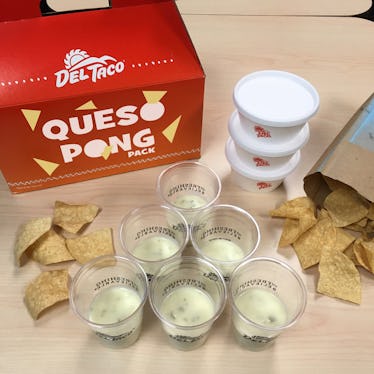 "Queso Pong" Is A Thing & It's About To Be The Most Delicious Party Game Ever
With the holidays just around the corner, there is a good chance that you'll be attending or hosting a party or two. Planning the perfect party is not always the easiest task while picking crowd-pleasing bites and entertainment. Well, you can now take care of both the food and the fun with this new product from Del Taco. All you need to do is read on to find out where to buy Queso Pong by Del Taco, and then get ready to host the most talked-about holiday party of the season.
First of all, let's clarify what exactly Queso Pong is. According to Delish, it turns out that it's pretty much what it sounds like: cups filled with Del Taco queso set up in the typical beer pong pyramid orientation, and of course, tortilla chips replacing the traditional ping pong ball. Sounds like tasty fun, right? Well here's the catch. You can only pick up the official Del Taco Queso Pong pack at one location. It's a pretty good one if you happen to be a college student, though, because it's the Del Taco at 11066 Santa Monica Blvd., Los Angeles, CA, which is right by the UCLA campus.
Del Taco pretty much inspired the idea for Queso Pong when they posted a Facebook video on Oct. 21 that showed the classic red beer pong cups filled with none other than delicious Del Taco queso. Their caption, "Who's got the next round of Queso Pong?" should have tipped us off to what was coming. Oh, and the video has more than 9.5 million views and over 75,000 shares on Facebook. So, it's safe to say that the idea of Queso Pong was well-received.
Now that it's here, some lucky college kids are going to kick-off the holiday party season with a cheesy twist. When you buy the Del Taco Queso Pong pack, you'll get a rule sheet (you won't be chugging any cheese here), Del Taco cups with enough queso to fill 12 cups, a bag of chips (to dip, of course), and a carrying pack. There's no doubt that you'll be the hit of the celebrating-the-end-of-midterms blowout when you show up with a Del Taco Queso Pong pack.
Plus, you can do it on the cheap if you're one of the very lucky ones who snags a free Queso Pong pack. Just get to the Del Taco at 11066 Santa Monica Blvd. at 8 p.m. PST tonight, Nov. 10, and you could be one of 20 winners of a free Queso Pong pack.
You'll notice that there's no yellow nacho cheese in the Queso Pong images, and that's because Del Taco recently introduced their new Queso Blanco. According to Brand Eating, Del Taco's Queso Blanco appeared on the menu on Aug. 31, 2017. The new cheese sauce is made with milk, cheese, jalapeños, and heavy cream. The Queso Blanco replaced the old nacho cheese queso that Del Taco previously offered. What better way to showcase the new cheesy dip than with the invention of Queso Pong?
Unfortunately, there's no copy of the official Queso Pong rules just yet, but if you've been crowned beer pong champ before, there's a good chance that you'll be able to figure it out. Also, if you're not near the UCLA Del Taco tonight, you'll have to settle for creating your own iteration of Queso Pong. No, you won't get the snazzy carrying pack, but it will give you an excuse to tell your grandma that you finally used that fondue pot she bought you for Christmas last year. Plus, it will totally make your holiday party one-of-a-kind. Making grandma happy and hosting the best bash of the year? Talk about a win-win.
Check out the entire Gen Why series and other videos on Facebook and the Bustle app across Apple TV, Roku, and Amazon Fire TV.