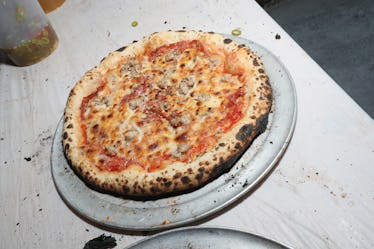 If You Can Slice A Pizza, You Can Use This New "Pizza Cutter" Eyeliner
Cindy Ord/Getty Images Entertainment/Getty Images
There are few things quite as satisfying as slicing a freshly baked pie with a pizza cutter. Watching the springy dough, melty cheese, and zesty sauce separate from the mothership in neat little triangles is easy and titillating — I'm getting hungry just thinking about it. What if you could employ the same mechanism to a much dicier duty, like applying liquid eyeliner to your lids? Well, the cooperative pizza/liner gods have heard our pleas, and we now know where to buy pizza cutter eyeliner from Revlon and MAC Cosmetics.
Think about it. With a pizza cutter, nine out of 10 times, even if you mess up a little and the edges aren't even, the finished product is still perfect AF. Unfortunately, that can't be said for liquid eye liner, where nine out of 10 times, a flawless final product eludes even the most concerted effort. A liquid liner that rolls over lids with the same ease and precision as a pizza cutter is a match made in makeup heaven. The clever mash-up was first brought to market by MAC Cosmetics back in August, and now Revlon has introduced a sleek and affordable version you can score at the drugstore.
Curious to see 'em in action, are you?
Revlon Color Stay Exactify Liquid Liner, $12, Ulta
The Revlon ColorStay Exactify Liquid Liner comes in four colors: Sparkling Black, Intense Black, Mulberry, and Mermaid Blue, and each one is gorgeous. The tiny wheel tip glides right over lids while remaining rigid and straight, allowing users to create a completely even line. What a revelation! Whether you're prone to drawing a thicker line on one side or pressing too hard at a certain part of your lash line, now you don't have to worry. This applicator is like cruise control and you're about to roll out.
Beyond precision, the formula offers a high-shine color payoff that supposedly lasts up to 24 hours.
The MAC Cosmetics version is called the Rollerwheel Liquid Liner and it comes in four matte and shiny shades: On A Roll Matte Black, Rollin' Black Shine, Roller Royale (blue), and Rollerwheel Brown (warm brown). The brand considers the product "training wheels" for liquid lining, and while I'm never one for bumpers at bowling, I won't balk at this kind of additional support.
Rollerwheel Liquid Liner, $21, MAC Cosmetics
Rappler had real women, not skilled makeup artists, test the MAC Rollerwheel Liquid Liner across their lash lines. Several admitted they were a little scared about the application, and later how surprised they were at the wheel's steady and easy payoff. "I was able to angle my wing pretty flawlessly," explained one tester. "This could be really great for beginners," said a fellow guinea pig. Another warned not to open your eyes until it's completely dry. "Easier than a felt tip or gel eyeliner," raved one woman.
With two fantastic options for wheel liner available now, it's no wonder people on Twitters' heads are spinning about the savvy new method to sex up your makeup.
Some are LOL'ing at the concept. "I am *crying laughing emoji* at someone saying that roller eyeliner thingie is a pizza cutter eyeliner," wrote user @Raysuh_.
"So the new MAC rollerwheel eyeliner looks like a mini pizza cutter, only me?" pondered @wtf_kenb. No @wtf_kenb, you are not alone.
User @makeupbyKoren put the MAC product on display, showing off a thin line of liner that makes her lashes look thick and flirty.
While the Revlon ColorStay Exactify Liquid Liner is brand new, I have a feeling we will see more fans test the formula — and become addicted to wheelin' a microscopic pizza cutter across their lids.
Now that's a form of spinning I can get behind.