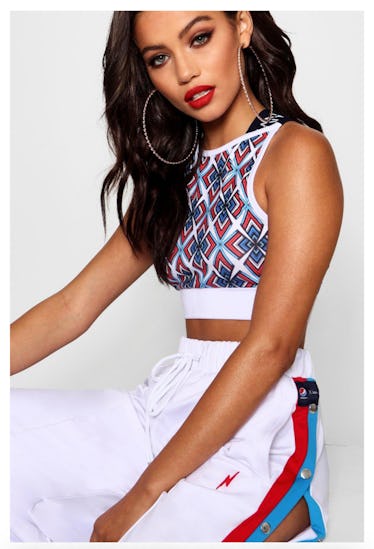 Pepsi x Boohoo Made A Surprisingly Hot Clothing Collab, So Prepare To Drink It All In
Boohoo
Sports fan or not, the World Cup is an undeniably fun global event. As someone who's relatively unknowledgeable about the game, however, the best way I know how to celebrate is through fashion. Yup, clothes. Here's where to buy Pepsi x Boohoo because the thirst for this hot collab is real.
If you're unfamiliar with Boohoo, I'll just start by saying it's a store you should know. The brand has literally every trendy fashion item you can dream of and it's all unbelievably affordable. I'm talking everything from athleisure to evening gowns and none of it will break the bank. So what could be better than all that? A one time-only soccer-inspired collaboration with one of the biggest beverage brands in the world: Pepsi.
"[Soccer] is the world's game — and that culture and lifestyle goes beyond where and how we watch the game, to how we love and live the game. And that is where this fresh capsule collection plays. It brings the spirit and energy of [soccer] off the pitch and into lifestyle apparel and accessories," said Natalia Filippociants, Senior Marketing Director at PepsiCo. Boohoo describes the drop as a "sportswear-influenced capsule" to reassure you that you don't actually have to play soccer to wear it. The collection has both men's and women's styles and it's available right now.
Pepsi x Boohoo Popper Track Top With Panelling
To start, this tracksuit look has the signature red, white, and blue Pepsi colors. There's also a prominent Pepsi x Boohoo tag stitched onto the sleeve so you can show off your limited-edition threads.
Pepsi x Boohoo Popper Wide Leg Trouser
These pants have snaps all the way up the sides so you can adjust how wide leg they are. Leave a few snaps open at the bottom to show off your shows. You can even wear them with Boohoo's Maddie Suedette Skinny Barely There Heels ($40; boohoo.com) to get the full look.
Pepsi x Boohoo Pattern Crop Top With Taping
This crop top can also be worn as a sports bra — talk about getting your money's worth!
Pepsi x Boohoo Side Stripe Wide Leg Pant
Another look has a darker feel to it, for people like me who aren't responsible enough for white pants.
Pepsi x Boohoo Colour Block Cropped Hoodie
This style has a hoodie to go with it...
Pepsi x Boohoo Colour Block Cropped Track Top
...and a collared jacket.
Pepsi x Boohoo All Over Print Contrast Panel Tracksuit
This kaleidoscope-inspired pattern is the bomb dot com.
Pepsi x Boohoo Strappy Patterned Crop Top
Don't forget your Maisie Oversized Twisted Hoop Earrings ($6; boohoo.com) that obviously go with all of these clothes.
Pepsi x Boohoo Paneled Lightning Bodysuit
This bodysuit is giving me major Wet Hot American Summer Vibes.
Pepsi x Boohoo Graphic Side Cropped Tracksuit
If you want to be a little less overt with your branding, but still look fly, there are a few pink and black styles in the collection that should catch your eye. The Ava Clear Court Heels in Pink also look fire ($52; boohoo.com) with this ensemble.
Pepsi x Boohoo Repeat Print Halter Cropped Top
This wrap-around halter top is fierce.
Pepsi x Boohoo Printed Cropped Raglan Tracksuit
Maybe it's because Legally Blonde 3 is officially a go, but I can't help but picture Elle Woods in this #ootd. Add the Jessica Clear Court Heels in Lilac ($60; Boohoo) for extra points.
Pepsi x Boohoo Knot Front Crop Top With Tiger Print
Long sleeve crop tops are honestly so underrated. So are visors, like this Julia Coloured Clear Visor in Pink ($12; Boohoo).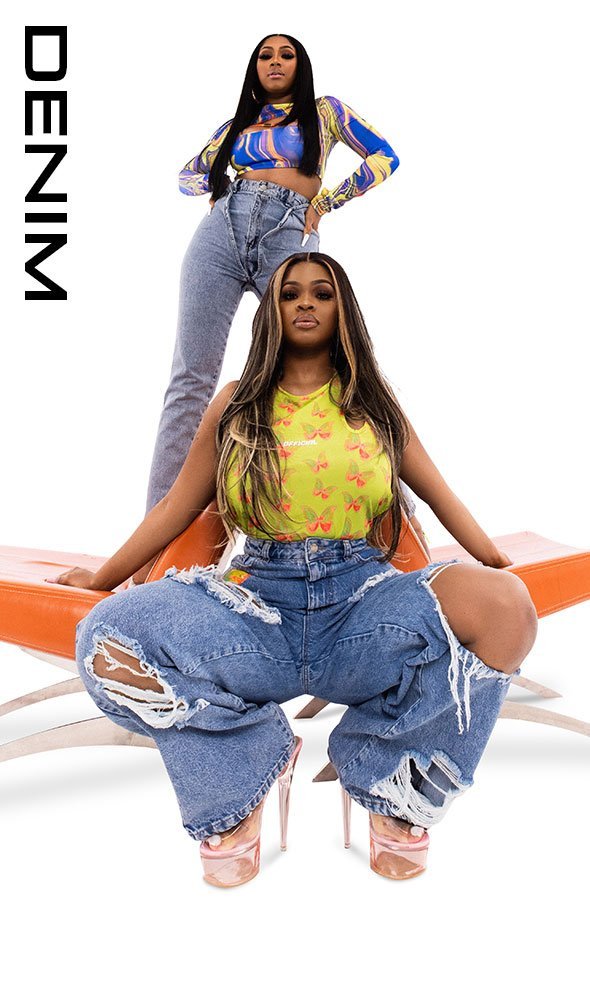 Shop the rest of the Pepsi x Boohoo collection online now!