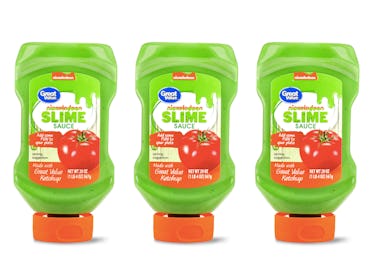 You Can Buy Ketchup That Looks Like Green Nickelodeon Slime, So '90s Kids Rejoice
Nickelodeon is bringing their signature green calling card to stores, and I'm getting all the feelings. As every '90s kid knows, the network is pretty much synonymous with their iconic green slime, and now they've found a way to bottle the lime-hued substance of your childhood for your next BBQ cookout. Prepare for a heavy dose of nostalgia when you find out where to buy Nickelodeon Slime Sauce ketchup, because it's going to be your go-to condiment all summer.
Nickelodeon has been hard at work bringing back our inner kids this year, with a Nickelodeon eyeshadow pallet (shaped just like an orange cassette tape, of course), and the return of hit trivia series, Double Dare, to the channel. Now, the popular network's latest project is a spin on their infamous green slime, and it's definitely my favorite throwback out of the bunch at just $2.28.
According to Insider, bright green bottles of Nickelodeon Slime Sauce ketchup have been spotted at Walmart stores, and I have so many questions. While the cap is bright orange, the green "slime" comes in a ketchup-shaped clear squeeze bottle so you're hit with both of Nickelodeon's trademark colors at once. For under $3, you can "add some fun to your plate" with a slime-inspired take on ketchup, according to Walmart's website.
"Great Value Slime Sauce Ketchup is a fun and exciting way for your child to enjoy their favorite condiment," the website reads. "This tomato ketchup features a vibrant green color that resembles slime from the popular Nickelodeon game show, Splat."
It continues, "Use this as a dip with corn dogs, French fries and chicken nuggets, or as a topping on burgers and other favorite foods. This ketchup is a great addition to themed birthday parties, Halloween bashes and other events."
According to Nickelodeon blog NickALive, the slime sauce ketchup is an exclusive collaboration with Walmart's Great Value brand and is currently only available for purchase at the grocery chain in-store. Since the bottles of slime ketchup come in 20-ounce containers, you'll have plenty of the green substance to pour all over the hot dogs, hamburgers, and fries you'll eat this summer.
OK, I've got to admit that the green slime doesn't look exactly appetizing, but who hasn't wondered what it would be like to get slimed? Sure, it would be a little gross and hard to clean up, but there's no denying that many of us have a soft spot for the green goo.
After all, it's one of Nickelodeon's biggest badges of honor, and countless celebrities have gotten slimed on game shows and award shows over the past few decades.
Also, just last July, Mark Summers — aka the beloved host of Double Dare for a decade — said that green slime is "in" again during a 2017 interview with Business Insider, so there's literally no reason you shouldn't be trying it.
"You know, it's weird. Slime is hot again," the Nickelodeon host told the publication before sharing what ingredients go into the authentic slime recipe, because apparently, the consistency is everything. It turns out the OG green slime actually tastes a little like a dessert with some bright green food coloring mixed in. Yum.
He told Business Insider, "[The real slime] started off with vanilla pudding, apple sauce, green food coloring and a little oatmeal."
While countless Nick devotees have tried to replicate the experience in their own homes over the years, Summers said he is not a fan. "And there's all these recipes online that have nothing to do with what we used as real slime," he continued. "The consistency of that was far better than the stuff that I see today. I don't know what it is."
So maybe Mark Summers wouldn't approve of 2018's Slime Sauce Ketchup. Then again, something tells me that consistency would be pretty perfect.