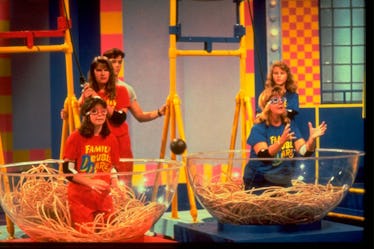 Guys, Nickelodeon Is Bringing Back 'Double Dare' & The Nostalgia Is SO Real
Nickelodeon
2018 is the year of the reboot — hello, American Idol, Roseanne, and Trading Spaces, among others — but so far, I haven't really been excited about any of them. That's all about to change, though, because Double Dare is coming back to Nickelodeon, and my nostalgia meter is at an all-time high. The slimy, hilarious, trivia-filled show was a major part of my childhood, and even though I haven't watched Nick for quite some time, I already know that I'll be parking my butt on the couch once new episodes premiere this summer.
If you don't remember Double Dare, here's a refresher: The game show pitted two teams against each other to answer trivia questions and compete messy physical challenges. Each team member got to choose — answer a question or complete a challenge — and the team with the most money at the end got to compete in the bonus round — a sloppy, disgusting obstacle course. Even all these years later, the obstacle course is still iconic: facing down the human hamster wheel or picking flags out of the giant Double Dare nose had the potential to make you a '90s TV legend. And who wouldn't want to be that?
Now, over 30 years since the show first premiered on Nickelodeon in 1986, the network is bringing back the iconic game show for millennial and teen audiences alike. Nick will air 40 new episodes of Double Dare in summer 2018, and the episodes will feature "the gameplay and challenges [fans] remember, as well as appearances from blasts from the past and stars from today," according to an official press release. The network hasn't announced who will host the reboot, but don't expect to see the show's original host, Marc Summers, in the role. According to Entertainment Weekly, Summers won't be stepping into his old role, but "a new emcee is expected to be named soon." Maybe the show's second host, Jason Harris, will get another shot at glory in the reboot?
Double Dare actually has a much longer history than any of its fans may realize. The show aired on Nick from 1986 to 1993, making it the network's first, and longest-running, game show. Double Dare was an immediate hit with fans, and it quickly became one of the most popular daily programs on cable TV. The show was revamped as Super Sloppy Double Dare in 1989 and then grew into Family Double Dare, which featured — you guessed it — parents completing the show's gross challenges alongside their children. In 2000, the series' first reboot aired: Double Dare 2000, which introduced the Triple Dare Challenge as a way to win more money. In the new millennium, you've got to go big or go home. Double Dare 2000 only lasted for one season, but fans have stuck with the series, and the original show, by watching reruns on TeenNick's amazing "The '90s Are All That" block (now called "NickSplat").
And clearly, plenty of fans have been keeping up with Double Dare reruns, because as soon as Nickelodeon announced that a reboot was coming, Twitter erupted with excitement.
The world is awful and the negative news cycle is constant, but every once in a while, a piece of great news brings us together. Who knew that Double Dare would be the thing that united Americans in this difficult time?
I can't wait to get back into Double Dare, but I'm even more excited for a whole new generation of kids to experience it. I can't lie, I don't really know what kids are watching these days, but I guarantee you it doesn't compare to Nick's messy, amazing, hilarious game show. After one episode, they'll be hooked — just like I was 20 years ago.