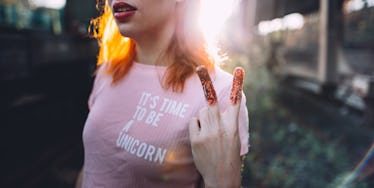 Lisa Frank Makeup Is Here To Make Your Inner '90s Child Happy & This Isn't A Drill
If you were a child in the 1990s, chances are you love Lisa Frank. If you're reading this article, chances are you love makeup. So get ready to throw a fistful of sparkling, rainbow confetti into the air, because I know where to buy Lisa Frank makeup and make your inner '90s child explode with joy.
As a makeup artist and beauty writer, I have heard rumors of various Lisa Frank makeup collaborations about once a month for the past three years. And every time it doesn't happen, my pink and purple leopard-spotted heart gets shattered all over again like I'm living though a psychedelic, unicorn Groundhog's Day. But finally, as PopSugar reports, there is proof of the existence of Lisa Frank makeup. Call Area 51, or wherever they keep aliens, Bigfoot, Bat Boy, and other heavily rumored mysteries of the universe. This Lisa Frank x Glamour Dolls collaboration seems too good to be true.
Glamour Dolls, an online makeup brand that prides itself on low, low prices and adorable packaging, first started brainstorming the Lisa Frank collaboration several months ago. Knowing that Lisa Frank makeup was something the beauty community had been begging for, the brand reached out to the internet for help by setting up a Kickstarter. "Backers" who donated money were promised various packages of products depending on the amount they donated. Since the Kickstarter began, 5,935 backers pledged $370,063 to make Lisa Frank makeup a reality. And now, the brand is delivering on the first few makeup products.
In July 2017, Glamour Dolls launched two Lisa Frank makeup brushes, both priced at $5 each. The first was an Angled Blush Brush ($5; glamourdollsmakeup.com) decorated with portraits of rainbow unicorns, a rose gold ferrule, and white bristles with pink tips. The second was a Blending Brush ($5; glamourdollsmakeup.com). It had the same ferrule and bristles, but the handle of this brush was decorated with full-size rainbow unicorns prancing about. Let's be real: Brushes are fun, but thank goodness the makeup is finally here.
The first product is the Lisa Frank x Glamour Dolls Bitten & Bronzed Matte Bronzer (glamourdollsmakeup.com). According to Kickstarter, the bronzer is "small but mighty."
PopSugar also posted this photo with a rainbow leopard image next to the bronzer. Is it a box for the product? A sleeve? Guess we'll have to wait to find out.
For people who don't dig bronzer, rest assured the collection doesn't stop there. There will also be a Lisa Frank x Glamour Dolls Single Eyeshadow in Picnic Peachy Pink (glamourdollsmakeup.com) available for purchase.
The shadow itself seems to be a light pinky-champagne shade, which also comes in a rainbow box and/or sleeve situation.
According to PopSugar, both the bronzer and the single shadow will be available for purchase Nov. 11 and will cost less than $10 each! What a steal.
If you were wanting more color in the actual product because whacky packaging alone doesn't do it for you, don't be disappointed my friends. I did some snooping and found some images of Glamour Dolls' future products, like the Naturally Glam Eyeshadow Palette and the Bright and Bold Eyeshadow Palette. Both look absolutely saturated in the bright, poppy colors we sported in 1995.
Now these are just samples, but, if they don't change much for the finished product, I'll be happy.
The Lisa Frank x Glamour Dolls products are being released in waves, so these palettes don't have a release date yet. But, if you're interested in the single shadow or travel-sized bronzer, make sure to snatch them up ASAP on Nov. 11 on Glamour Doll's site. The last launch sold out immediately, and there's nothing worse than Lisa Frank FOMO.