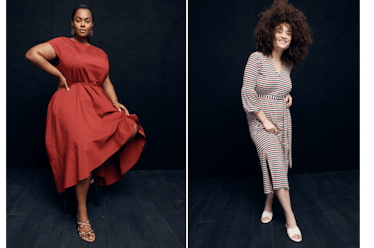 J.Crew x Universal Standard's Collab Is The Most Inclusive Summer Launch Yet
Courtesy of J.Crew
What do you get when you combine one of the chicest plus size clothing brands with one of the most iconic retailers in the world? A practically historical clothing collection. Here's where to buy J.Crew x Universal Standard collab because trust me, you're going to want it all.
Plus size clothing is relatively new for J.Crew, the brand sells almost all women's items up to a size 16 and a large selection up to a 24, but until this year, the sizes stopped there. In early 2018, J.Crew began selling plus size clothing (so did its sister brand, Madewell) including jeans that go up to a size 35. At last! Customers were ecstatic about the brand's newly inclusive sizing and J.Crew seems to have taken it to heart because they're launching even more plus size designs, and with an exciting new partner: Universal Standard.
Universal Standard is an inspiring, female-led retail start-up focused on rewriting the fashion industry's sizing rules. The brand's designs are timelessly chic and go up to a size 32, significantly expanding the clothing choices for plus size, fashion-minded women. The brand is only three years new and is already being tapped by J.Crew for this exciting collaboration, which features everything in sizes from XXS-5X, and prices from $50-$150. Check out some of the best styles from the launch below.
Universal Standard's designs are typically minimalist in style, like the above T-shirt and pencil skirt, but tailored extensively to assure an impeccable fit for each and every size. The brand was founded by BFFs Alex Waldman and Polina Veksler when Waldman one day bemoaned about the lack of stylish clothing choices for plus size women. Waldman and Veksler say,
It was clear that all women weren't given the same level of style, quality, or even respect...We wanted a size 26 to shop in the same way as a size 6 – using style as her only filter.
The women soon put thought into action and provided their chic solution to this particular fashion problem.
Waldman and Veksler speak about their decision to prioritize design and style over the numbers on the tag:
We decided that we wouldn't compromise on quality, that our obsession with fit was justified, and that modern essentials would be our style uniform. We wanted to innovate, to push ourselves, and set new standards.
With J.Crew's new addition of even more size options, this collaboration seems a match made in shopping heaven. Said J.Crew in a press release:
The collection leverages Universal Standard's highly technical approach to micrograding by size to ensure that each design is tailored for the real, diverse spectrum of the American woman. This is J.Crew's first step towards taking down the barriers that keep tens of millions of women from participating in style.
The collection includes all kinds of styles, including tops, dresses, skirts, and pants, and all of the epic clothes go up to a size 5X. Many of the pieces can be worn year-round, but there's also some festive, summer pieces like the above red, white, and blue dress.
In addition to the collab's online launch, the clothing will be available in select J.Crew stores, as well. And with all of these layering pieces, the collection will be wearable year-round.
Waldman and Veksler have said, "we promise we won't stop until we bring fashion for all women up to a Universal Standard," and this collaboration with J.Crew is getting them a big step closer to their goal.
Shop the limited-edition (for now) collection starting Jul. 10 online at J.Crew and select store locations.