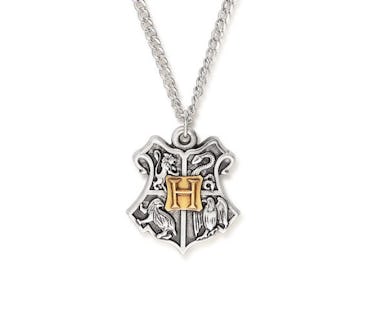 This 'Harry Potter' Jewelry Line Will Help You Accessorize In A Magical Way
Are you a Potter Head? Do sneak Harry Potter talk into every conversation? Are you always trying to figure out which Hogwarts house you and your friends belong in? If you answered "yes" to any of the questions above, you are going to love the new Harry Potter-inspired jewelry line created by jewelry company Alex and Ani. If you are wondering where to buy Harry Potter jewelry by Alex and Ani, I have all the answers you need.
Alex and Ani teamed up with Warner Bros. to create a line of jewelry perfect for the most obsessed Harry Potter fans. The line includes necklaces, rings, and ear rings, and almost all of the jewelry can come in either gold or silver. The multiple designs range from a set of bracelets donning the popular Hogwarts spell, Lumos (which creates light), to the Deathly Hollows symbol on necklaces — and the line even carries jewelry featuring Harry's iconic round glasses.
To buy one (or all) of these adorable pieces, you can visit Alex and Ani's online store. Or, if you find yourself in Kent, England, you can visit Alex and Ani's brick and mortar store in Bluewater. The most expensive item in the Harry Potter jewelry line will set you back $98, and the cheapest item will only set you back $28, which makes it a pretty affordable line.
See some of jewelry below.
Hogwarts Two Tone Necklace
Harry Potter Glasses Earrings
Lumos Bracelets
Deathly Hallows Necklace
Deathly Hallows Ring
If Harry Potter-themed jewelry isn't really your jam, you can visit Universal Studios in Orlando, because they are unveiling a brand new ride inspired by the book-gone-movie. The Harry Potter-themed roller coaster will be the newest addition to Universal Orlando's Wizarding World Of Harry Potter, and Universal promises it will be "the most highly themed coaster experiences."
Kristen Clark, PR spokesperson for Universal, wrote in an official blog for the upcoming coaster. She said,
This all-new thrill ride will take you deeper into J.K. Rowling's Wizarding World, where you will encounter some of your favorite characters and creatures. [...] It will combine a new level of storytelling with an action-packed adventure…and a few surprises along the way.
Don't consider yourself much of a thrill seeker? You can always go the comfy route and binge the entire Harry Potter series while wearing a Hogwarts-inspired onesie. You can purchase an incredibly comfortable (and gender-neutral) onesie on ThinkGeek.com.
The onesies come complete with detachable shoes and hoodie, and buyers can choose from a Gryffindor or Slytherin onesie. Each onesie will set you back about 50 bucks, but that's a good deal considering everything you are getting.
If you are looking for a Harry Potter investment opportunity, you can look into purchasing The Boy Who Lived's childhood home. OK, so none of the Harry Potter films were actually filmed inside of this location, but the exterior of this home was used in the scene wear Harry defeats Voldemort once and for all.
The De Vere House is located in Lavenham, Suffolk in England, and the six-bedroom home will set you back around $1.3 million — so make sure you've saved up your muggle money.
Harry's childhood home aside, the Hogwarts onesie and Harry Potter inspired jewelry listed above can make great gifts for the Potter Heads in your life during the upcoming holiday season. And if you just want to buy these things for yourself, more power to you, because I'm considering doing the same!
Happy shopping!
Check out the entire Gen Why series and other videos on Facebook and the Bustle app across Apple TV, Roku, and Amazon Fire TV.