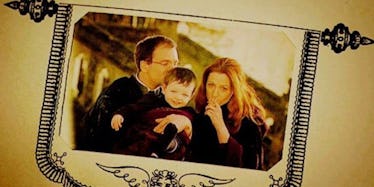 You Can Now Buy The House Where Voldemort Murdered Harry Potter's Parents
Warner Bros.
The historic De Vere House located in Lavenham, Suffolk is up for sale. Muggles may know it as one of richest residences in the village, owned by the De Vere family from the 14th to 17th centuries. But wizards know the true historical value lies in who once lived there, and those who were killed within these walls. Yes, Harry Potter's house is for sale in Godric's Hollow. Well, the house that belonged to James and Lily Potter, that is.
For those who might think this is actually a house that was filmed in, we're sorry to say that's not true. Though this village in Suffolk was the one that stood in for Godric's Hollow, and this house's exterior played the Potter residence that Voldemort comes to, only to be defeated by The Boy Who Lived, none of the actors involved in the movie were ever on site here.
Danielle Radcliffe and Emma Watson filmed the graveyard scene next door to the house in a studio, with the village greenscreened in behind them. The flashback sequence where Lily puts herself in between Voldemort and her baby was filmed in a different interior, as is Snape's memory of arriving too late to save her.
That's not stopping the muggle market from putting the house at the top end of the price range. The property is currently listed at £995,000. (That translates to ~$1.3 million in US dollars.)  The six bedroom property, we are reassured is in tip top shape, without any signs of the brutal attack that happened on October 31st, 1981.
We are also assured that the ghosts of Lily and James Potter are not included in the purchase price, and that there is no one inside who will attempt to kidnap anyone.
According to the listing, the house does include:
 The property currently comprises 2 halves which can easily be returned to one family home as it has 2 connecting doors. The smaller wing has previously been a successful holiday let property and comprises: a reception hall, drawing room, kitchen/dining room, 2 bedrooms and 2 ensuite bathrooms. The principal wing comprises: a stunning hall, sitting room, dining room, kitchen, utility room, 3 first floor bedrooms, family bathroom, cloakroom, vaulted attic bedroom 4 and an ensuite shower room.
So for those looking to own a piece of both muggle and wizarding history, all you have to do is pony up just under £1 million, and the place will be yours.