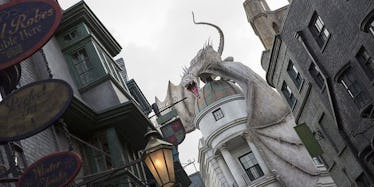 New 'Harry Potter'-Themed Rollercoaster Is Coming To Universal So Hold Onto Your Wands
Sheri Lowen/Universal Orlando Resort via Getty Images
Get ready to cast "Muffliato" on your screams, because a Harry Potter-themed rollercoaster is coming to Universal Orlando. Yep, a brand new ride is coming to the Wizarding World of Harry Potter, to built in Hogsmeade at Universal's Islands of Adventure in 2019. Universal announced the coaster news in a blog post this week.
In the post, Universal promises this new Potter coaster will be "the most highly-themed coaster experiences" Universal has to offer, which is really saying a lot. Universal PR spokesperson Kristen Clark wrote,
This all-new thrill ride will take you deeper into J.K. Rowling's Wizarding World, where you will encounter some of your favorite characters and creatures. [...] It will combine a new level of storytelling with an action-packed adventure…and a few surprises along the way.
There aren't really any more specifics available as to what those characters and creatures will be, but there's been a rumor flying around for several months that the Wizarding World is planning a "dark concept" Forbidden Forest ride. So my money is on centaurs and unicorns for this one.
However, this new possible Forbidden Forest ride comes at a price: The new coaster will replace the Dragon Challenge coaster, previously known as the Dueling Dragons. These two intertwining coasters were built in 1999, and was rebranded to match The Wizarding World of Harry Potter when it opened in 2010, renaming the two dragons the Chinese Fireball and the Hungarian Horntail.
So, though fans may recall Dragon Challenge as part of the Wizarding World of Harry Potter in Orlando experience, it was never officially a Harry Potter -themed ride. That makes this new ride the very first Potter roller coaster!
Still, many will be sad to see the Dragon Challenge go. The ride has been a staple of the park for nearly 20 years — and in fact, will be taken down just before it can hit that 20-year mark. The ride will officially close on Sept. 4, 2017, so get those last minute rides in now.