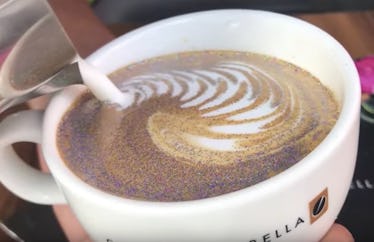 These Glittery Cappuccinos Are Gorgeous & They'll Make Your Latte Insta Pics Sparkle
Early mornings are never easy, so any added perk is always welcomed. If you have the opportunity to make your cup of joe sparkle, you obviously take it with open arms. You'll definitely want to know where to buy glittery cappuccinos so that you can start your day off on the right foot.
Coffee By Di Bella is the mastermind behind the glittery goodness, and its concoction is downright genius. The cappuccino foam on their Gold and Diamond Cappuccino is accompanied by multicolored glitter à la Lisa Frank, and obviously, it's a must if you're going to head in to a lengthy 9 a.m. meeting. Without question, their sparkling menu items are worth getting out of bed for, even on the days when you're determined to stay wrapped up in blankets.
While friends and colleagues are enjoying the last of the Pumpkin Spice Latte season before holiday drinks take over, you'll be in a category all your own with the glittery cappuccino. It's just as important to look delicious as it is taste delicious, right? You'll be the envy-inducing worker in your department for sure.
But before you ditch your Starbucks go-to, there is one tiny catch. Coffee By Di Bella is located in Mumbai, India, so unless you call Mumbai home, the Diamond Cappuccino might not be your new morning order anytime soon. Take a look at the beautiful bev for yourself and see if you can provide your local barista with a little inspo.
See? It's pretty magical — like a unicorn in a cup (hint, hint, Starbucks). Who would forgo the option to shine so early in the morning? No one (after all, it does make for a pretty excellent 'Gram).
As lovely as Coffee By Di Bella's treat looks, it's far from the only kooky coffee concoction. Take a look at Kang-bin, a Korean barista who is more of an artist than anything else. He uses a cup of cappuccinos to recreate famous paintings like Vincent van Gogh's "Starry Night." The talented barista perfectly coins his work as "CreamArt."
"One time I drew 'The Starry Night' and it looked so special as the famous painting placed on top of coffee. After that, lots of people ordered that coffee," Kang-bin told Reuters.
What's even better is that his CreamArt is not limited to famous paintings. The talented barista — who has never received formal art training — aims to please everyone, from Disney lovers to diehard Leonardo DiCaprio fans. If you need some coffee eye candy, check out #CreamArt on social media — it will inspire you to brew a cup of coffee... and maybe even sign up for art school.
If glitter and fancy drawings aren't your thing, you can feel a little bit extra with your morning coffee order by opting for the "avolatte." If you're heading Down Under in the near future, you have the option of swinging by Truman Cafe in Melbourne for a sight you can only see to believe: a latte served in an avocado.
As enticing as all this may seem, sometimes a quick cup of Joe is all you need for that morning jolt. Now you can get festive and celebrate the season thanks to Starbucks' holiday cups and treats: the Chestnut Praline Latte, Caramel Brulée Latte, and Peppermint Mocha. McDonald's is getting in on the seasonal action with its own red cup and fan-favorite drinks: the Peppermint Mocha and the Peppermint Hot Chocolate.
While glitter or paintings might not be a possibility, there are still plenty of options to quench your thirst. Let's face it: All coffee is beautiful, glitter or not.
Check out the entire Gen Why series and other videos on Facebook and the Bustle app across Apple TV, Roku, and Amazon Fire TV.