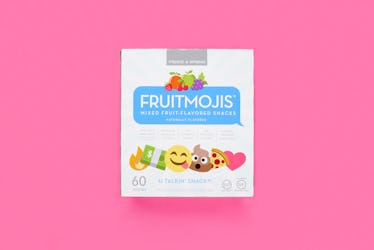 Emoji-Shaped Fruit Snacks Are Here & They're Honestly The Cutest Gummies Of 2017
Remember how excited you would get when you opened your lunchbox to find that your mom had thrown in your favorite snack? That boring old turkey sandwich went down a lot easier when you knew you had delicious fruit snacks awaiting you once you finished that last bite. Well, the fruit snacks you know and love have gotten a 2017 makeover, and they're so good that they might even make you start packing lunches again. Read on to find out where to buy Fruitmojis — aka emoji fruit snacks — which put a fun twist on this nostalgic food.
So, what exactly are Fruitmojis? According to an email sent to Elite Daily, the new snack is exactly what is sounds like: emoji-shaped fruit snacks. When you think about how long we've been communicating with smiley faces and animated poop, it makes sense that Fruitmojis would come about. As the company says in the email, "If they can animate our conversations, they could certainly improve snack time."
Improve, they will. According to the email, the yearlong development process resulted in six original flavors, and each flavor is shaped as a different emoji. While working with a collaborative supplier, these flavors were created by taste testing and looking at the numbers (we're talking hard data here, people) to finding out the most popular flavors — so you're not just getting some randoms that were picked out of a hat.
Thanks to the research and rigorous taste-testing, you'll get to enjoy cherry-flavored flames, apple-flavored money, grape-flavored poop (how can snack time not be fun with grape-flavored poop?), strawberry-flavored hearts, fruit punch-flavored smileys, and orange-flavored pizza.
This newfangled version of a classic lunchbox staple is brought to you by Prince & Spring, which is an in-house label at the online wholesale retailer, Boxed. Jeff Gamsey, VP of private brands at Boxed, talked to Elite Daily about what inspired the idea of emoji-shaped fruit snacks. He said,
We wanted to create a fun, delicious private brand product that appeals to our millennial-centric customer base and is only available at Boxed. As we bring more and more Prince & Spring products to market, we will continue to infuse as much creativity, cleverness and personality into our brand. Fruit snacks was the perfect item to integrate the culturally relevant phenomenon of emojis into our brand in a playful way.
You'll want to bookmark the site now, because Boxed is where you can buy Fruitmojis. Oh, and you can get your Fruitmojis delivered right to your door within 48 hours. You'll get 60 packs of the Fruitmojis for $9.99, and you can even share them with your best gluten-free pal, because, well they're gluten-free. Your GF friends will be very excited.
According to the email sent to Elite Daily, some other qualities that you might appreciate about these fruit snacks as a grown-up Millennial (who has to pack their own lunch) include that they're fat free, they're made with real fruit juice (and no artificial flavors), they contain no high fructose corn syrup, they help you get 70 percent of your daily Vitamin C, and there is no synthetic coloring.
So, now you know that you're actually doing something good for yourself, even if the only reason you're here for Fruitmojis is to toss money-shaped fruit snacks into your mouth (that's also a perfectly valid reason, BTW).
I mean, just look at that packaging. When was the last time your fruit snacks had dollar bills and pizza on them? Fruitmojis look like they can cure pretty much any case of the Mondays or 3 p.m. slumps. Move over, coffee, poop-shaped Fruitmojis are the new afternoon pick-me-up.
In this fast-paced world where you sometimes only connect with your pals via a couple emojis in a text, it's good to slow down and remember the times when you actually sat down and ate lunch and had conversations with your friends. Now you can throwback to the good old days and turn the emojis from your phone into Fruitmojis fruit snacks that you can share with your squad in-person... or at least Snapchat each other while you inhale some pizza-shaped fruit snacks.
Snacks are supposed to be fun, anyway, aren't they? Like, you should be hungry when you have a snack, but I have a feeling you might even chow down on Fruitmojis sans stomach-growl.
Check out the entire Gen Why series and other videos on Facebook and the Bustle app across Apple TV, Roku, and Amazon Fire TV.