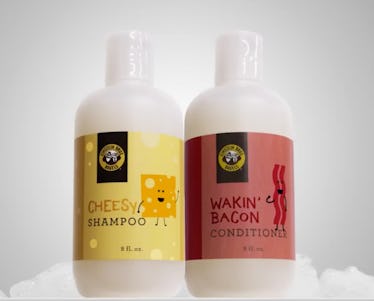 Einstein Bros Bagels Dropped $10 Bacon & Cheese Hair Products So You Can Smell Like Breakfast
Courtesy of Einstein Bros Bagels
There's nothing better than a big greasy, cheesy, bacon-filled breakfast sandwich when you're hungover AF. If only there were a way to enjoy these foods without the alcohol-induced headache, maybe even while in the shower? Turns out, there is! Here's where to buy Einstein Bros cheese and bacon shampoo, so you can smell like your favorite food combo sans the hangover-induced nausea.
There may be a few naysayers out there, but almost everyone I know would say that the best way to eat a bacon, egg, and cheese sandwich is on a bagel. Many of those people would also agree that the best place to get said bagel (everything bagel, toasted, for me) is from Einstein Bros. Its glutenous, heavenly rounds of dough are reliably tasty whether you eat them plain, with cream cheese and lox, or as the godsend holding together — your bacon, egg, and cheese.
As much as I love Einstein Bros. bagels, I never anticipated the brand's most recent business venture: Cheesy smelling shampoo and bacon-scented conditioner. Instead of your typical fruity, herbal, or coconut-scented bottles, these unique hair products have a much more hunger-inducing aroma. You may want to have a post-shower snack ready because I'm already hungry.
"Look incredible, smell edible" is the amusingly apt slogan for these shower goodies. The products are "guaranteed to put a little sizzle into your morning routine," as tweeted by Einstein Bros.
"I'm hungering for something new. There's only so much rosemary-sage and lemon-mint a girl can handle. But smelling cheese and bacon all day at the salon? Mmmm, yes please!" says Shampoo Assistant "Valerie" (who is actually Natalie Negrotti from Big Brother season 18 and MTV's The Challenge: Vendettas). "Who wouldn't want to smell like cheese and bacon, am I right?" Right you are, Valerie/Natalie, right you are.
Dating Consultant Zak weighs in on the benefits these products will have on your love life. "First impressions? Yeah, they matter. I always tell my clients the secret to getting it right is finding a scent so delicious that the first conversation is sparked with a hunger for more. This product, it's not just a breakthrough for amazing hair, it's a breakthrough for love."
Well said.
Still wondering why these regrettably inedible products exist? Einstein Bros. created them as a promotion for the shop's new Cheesy Wakin' Bacon Breakfast Sandwich. The new breakfast creation has bacon, eggs, and cheddar cheese melted on a six-cheese bagel — #need. Kerry Coyne, senior vice president of marketing, product, and innovation for Einstein Bros., wrote in a statement:
We often find ourselves on autopilot in the mornings as we cope with the transition from sleep to a productive day. Einstein Bros. Bagels wants to awaken consumers' morning routines with something totally unexpected that will get them excited about breakfast and our delicious Cheesy Wakin' Bacon sandwich
I already get very excited about breakfast (and every meal) — the prospect of food is an impetus for me to do a lot of things — but being able to coordinate my first meal of the day with my shower routine makes it so much more interesting.
Cheesy Shampoo & Wakin' Bacon Conditioner Gift Set
($10; einsteinbros.com)
The shampoo and conditioner are sold together in a set, eight ounces each, with delightful cheese and bacon cartoon characters adorning each bottle. The set is sadly sold out at the moment, but you can add your email to a waitlist and be notified the moment it comes back in stock, which I really hope is soon because I need nothing if not more cheese and bacon in my life. Can I get an amen?