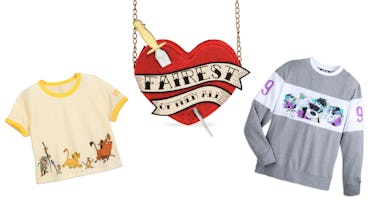 Disney's Oh My Disney '90s Flashback Collection High-Key Just Cleared My Acne & Watered My Crops
Hello, and happy Monday! If you're already in need of a beginning-of-week pick-me-up, well, same. I feel you. And boy, have I got the pick-me-up for you. (Thank god. I've only been awake for seven hours, and I'm already done with today.) This week's delight comes in the form of a super nostalgic collection straight from the Disney sphere: Disney's Oh My Disney '90s Flashback Collection. It's chock-full of apparel, accessories, and adorable dishware and home decor that'll take you straight back to the '90s, where you were sitting in front of your TV, eating chicken nuggets off of one of those plastic Disney plates everyone had and not feeling cripplingly anxious over your student loan debt.
No matter what your favorite Disney movie is (I was a Lion King girl, myself), the Oh My Disney collection has something for you. From a sick Aladdin-inspired denim jacket to mermaid leggings fit for the Little Mermaid herself to clutch handbags that look exactly like the VHS covers you know and love so much, this collection already has me adding one of everything to my cart. So if we're being honest, it looks like that crippling anxiety over student loan debt isn't going away anytime soon. (Ah, well, you can't have it all.) Read on below to see just a few of the amazingly nostalgic items you can snag from the collection, all available at shopdisney.com.
"It means no worries for the rest of your daaaaaaays"
Consider this shirt my problem-free philosophy because I will wear it with literally anything and everything. Do not even bother @ing me.
"Hey, Max, look! It's the Leaning Tower of Cheeza!"
IDK about you, but to me, this sweatshirt just oozes comfy, cool vibes. Seriously, if you squeezed a Leaning Tower of Cheeza into your hand while wearing this sweatshirt, I don't think anyone would ask questions.
"Mirror, Mirror on the wall, who's the fairest of them all?"
Hot take: If Snow White had been carrying around this oh-so-chic yet deliciously-edgy velvet crossbody bag, she probably would've just stuck the apple in her bag for later, forgotten all about it, and never have fallen under that spell in the first place. Just sayin'.
"Walkin' around on those — what do you call 'em? — oh, feet"
I'm not gonna lie, with Halloween right around the corner, I am about two seconds away from buying these leggings for myself so everyone can mistake my legs for a fin.
"Over sideways and under on a magic carpet ride"
Fall weather only means one thing in my mind: DENIM JACKET WEATHER. Considering this denim jacket has the most perfect magic carpet embroidered on the back, catch me flying over sideways and under on my own personal magic carpet ride.
"Tale as old as time, song as old as rhyme"
Almost as good as carrying around the old school Beauty and the Beast VHS cover is carrying around this clutch.
The real tale as old as time? I am, once again, going broke because of adorable Disney collections like this — and these buys aren't even it! You can find even more throwback products that you absolutely have to buy (I don't make the rules, this is just the way it is) at shopdisney.com.