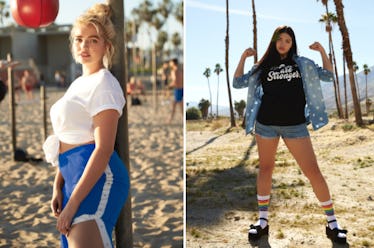 Simply Be Just Dropped The Hottest Plus Size Clothes & The Prices Will Make You Dance
Courtesy of SimplyBe
Finding cute and affordable clothes that fit is tricky for everyone, no matter your size. Many stores sell clothes ranging from size zero to 20, but fewer stores specialize in curve sizing. Customers are left wondering where to buy cute plus size clothing that is tailored just for them. There's finally an answer to that question because established plus size retailer Simply Be has completely reimagined their brand. Get ready for some of the trendiest plus-size clothing you've ever seen, with price tags that will make you dance.
Simply Be has been around since 1999, but the brand is getting a major face-lift to better serve its dedicated young customers. To bring the hottest spring trends directly to its fans, the new campaign features some familiar models, including Sarina Nowak, who was featured in the 2017 Sports Illustrated swimsuit issue and is one of the faces of Khloe Kardashian's denim line Good American. Along with social media star La'Tecia Thomas and runway model Nathalie Nootenboom (who happens to be DJ Steve Aoki's niece), Nowak poses in Simply Be's sizzling new spring campaign and the only thing that's more jaw-dropping than the clothes are the inclusive sizes and affordable prices.
Most of the new collection is available starting Mar. 15, 2018, with an additional, ultra-trendy music festival-inspired collection dropping in April. Sizes range from US 6 to 28, so now there's nothing left to do but feast your eyes on the drool-worthy styles below.
Luxe Athleisure Looks
Crop Hoodie With Sports Trim, $40, Simply Be | Split Side Trouser, $46, Simply Be | Sport Ribbed Bodysuit, $33, Simply Be | Sport Rib Wrap Crossover Top, $33, Simply Be
Cropped sweatshirts, thigh-high slit pants, crop tops, oh my! Athleisure has never looked sexier. Black and white is a timeless combo and Simply Be makes it look more stylish than ever.
Velour Longline Hoodie, $50, Simply Be | Bardot Sweat Top, $32, Simply Be | Split Side Trouser, $46, Simply Be | Joanna Hope Overlay Palazzo Pants, $75, Simply Be
I say it all the time and I'll say it again: I love off-the-shoulder tops! There's something so seductive about showing only your shoulders — keeps 'em wanting more. That pink sweatshirt dress looks comfortable enough to literally live in and those flowy white pants could double for a grocery run outfit to a club look for a girls' night out with your squad.
Just Keep Swimming
Beach To Beach Twist Front Bikini Top, $40, Simply Be | Beach To Beach High Waist Twist Brief, $27, Simply Be
This polka dot bikini is retro AF. Minnie mouse would approve and so do I.
Beach To Beach Sporty Swimsuit, $41, Simply Be | Cigarette Trouser, $48, Simply Be | Exaggerated Shoulder Jacket, $65, Simply Be | Beach To Beach Colour Wrap Over Swimsuit, $58, Simply Be
If one piece suits are more your style, I can relate. I can also tell you how fierce these neon suits are. Black is my favorite color but mixing it with pops of color like this is a fun way to jazz it up.
Promposals Galore
Dolly And Delicious Embroidered Lace Dress With Peplum Detailing, $125, Simply Be
Prom season is almost here and there's no excuse for not feeling like your best self in a glittery prom getup. These dresses are full of beads, sequins, glitter, and what else could you possibly need? Plenty of prom dresses are already available on the site with even more coming in time for the big day.
Alice Clutch Bag, $17, Simply Be | Glitter Layer Jumpsuit, $53, Simply Be
A prom romper (promper?) may be the only other thing you need, or a prom jumpsuit. I'm really regretting not wearing a jumpsuit to my prom, sigh.
Fierce Festival Fashion
Magicsculpt Black Solutions Superplunge Bodyshaper, $50, Simply Be
Do you have your Coachella tickets, yet? No matter which festival you choose, treat yourself to an outdoor concert or too this summer. Dancing outside with your besties to your favorite music is something every girl should experience.
Oversized Denim Jacket, $68, Simply Be | Black Tassle Balcony Bra, $33, Simply Be | Joanna Hope Spot Trousers, $65, Simply Be | Women Are Stronger T-shirt, $27, Simply Be
Simply Be ships all over the US, and will even be doing some pop-up shops in New York City this summer. No matter where you live, though, keep an eye out for these epic fashions coming to a doorstep near you.