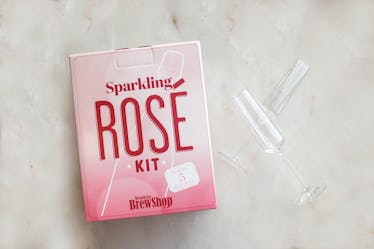 You Can Literally Make Your Own Sparkling Rosé With This Brewing Kit & I'm Ready
Brooklyn Brew Shop
I know that brewing homemade beer is a super worthwhile pastime for some people, but I'll be real with you: I don't love beer in the slightest. Don't get me wrong: I'll drink it from time to time, but I'm definitely not passionate enough about it to make the effort and brew it on my own. I do, however, love sparkling rosé wine with a burning passion, and now I can make it in the comfort of my own home (and so can you). For all my fellow wine-lovers, here's where to buy Brooklyn Brewshop's Sparkling Rosé Wine Brewing Kit. I am beyond psyched.
If you're seriously interested in brewing up your own sparkling rosé wine, rest assured that doing so is actually pretty simple. Just head to Brooklyn Brew Shop's website, and purchase your own Sparkling Rosé Kit. Each kit only costs $70, and it comes with all of the supplies you'll need to brew five generous bottles of house-made sparkling rosé wine. And, if you think about it, that really isn't too shabby. Breaking it all down, that comes out to only $14 per bottle. Anything less than $15 per bottle is awesome (in my opinion), and in all honesty, a good bottle of sparkling rosé wine is totally priceless — especially if you made it yourself.
According to Brit+Co, the kit includes a ton of different types of brewing equipment. It comes with anything from corks, to premier chardonnay grape juice, cuvée yeast, yeast nutrition, and, of course, a variety of bottling supplies. The only thing you'll need to have to stock up on for yourself is a few empty Champagne bottles, which — if you do actually love wine — you'll probably be able to get your hands on pretty easily. In my apartment, these definitely won't be too hard to find.
Per Brit+Co, the brewing instructions really just involve combining all of the ingredients, shaking them thoroughly, and closely monitoring the fermentation process. There's a little more science behind it, obviously, but if you read the directions thoroughly, you'll probably get it in a jiffy. Each bottle will take about six weeks to ferment completely, and once they're finished, each will have an impressive 11 percent ABV per bottle. To be honest, that might be the best part. Oh, and under the last step, labeled "Enjoy," you'll see a recommendation for brewers to "Share with friends if you're the sharing type." I'm definitely into that, so get ready for some of the best rooftop parties imaginable.
If you end up deciding that you're really into brewing your own beverages, popular home goods store, Anthropologie, was selling a KBBK Kombucha Home Brew Kit for quite a while. You could get your hands on it for only $70, and I don't know about you, but brewing your own Kombucha sounds kind of awesome. While fermenting your own sweetened tea might not be quite as lit as brewing your own sparkling wine, it's definitely worth looking into. Honestly, it could end up coming in handy for recovering from all of those those post-sparkling rosé wine gatherings.
I know that sipping a glass of bubbly at the bar is always super fun, but why not switch it up, and try making some on your own? I am beyond relieved that it's here in time for the warm weather, and it's really starting to look like my apartment will be the official party palace of summer 2018. I'll definitely be supplying a ton of home-brewed sparkling rosé, so if that sounds like your kind of party, come on over. Oh, and if you were wondering what I wanted for my birthday, this is all I need. Get ready, y'all.