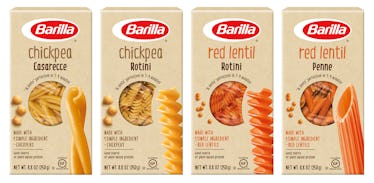 Barilla Dropped Its Own Line Of Chickpea Pasta, So Getting Your Protein Is Way Easier Now
I love pasta for several reasons, but since I don't eat meat, I especially love the fact that pasta is always an easy, go-to option for my meals. Topped with rich sauces and roasted vegetables, a plate full of carbs is pretty much heaven on earth. But my plant-based lifestyle also makes me extra aware of how much protein I'm getting each day. Thanks to Barilla's new line of legume-based pastas, getting your protein in and savoring your favorite spaghetti recipe is easier than ever before. If you're desperate to know where to buy Barilla chickpea pasta so you can try it out yourself, don't worry, my friend — I've got you covered.
And, look, even if you're a bit skeptical about chickpea pasta because it's something you've never tried before, Barilla's been in the pasta game for 140 years, so I think it's safe to say these peeps know what they're doing when it comes to your favorite carb.
According to a press release on the new line of chickpea pasta, which was sent to Elite Daily over email, these foods are all made from a single ingredient: good ol' beans. But, somehow, Barilla discovered a way to take classic chickpeas from being soft and creamy to the al dente perfection of a legit plate of pasta. If you're curious and want to give it a taste, you can find Barilla's chickpea pasta in bulk on Amazon, or you can pick it up in select stores. Pro tip: You can check if the pasta's arrived at a store near you via Barilla's "find this product" feature.
As you may have noticed, a number of chickpea pastas have emerged in the past few years, creating a growing trend among people who can't eat gluten, or even people who just want an extra boost of protein. Barilla joins bean pasta brands Banza, Tolerant (which adds kale or beet vegetable powders into some of its pastas), and my own personal favorite, Explore Cuisine, which not only makes a delicious black bean spaghetti, but is also the only edamame pasta I've ever come across. And, if you're really feeling brave, you can even try making your own version of chickpea pasta with cooking blog Wholefully's gluten-free and vegan chickpea and flaxseed homemade pasta recipe.
In terms of the health benefits of chickpea pasta, besides the obvious protein punch that these legume-heavy pastas provide, chickpeas are also great for your body in a variety of other ways. For example, one study, which was published in the scientific journal Nutrients, found that eating chickpeas, or even hummus (which is largely made from chickpeas), may help prevent cardiovascular disease and type 2 diabetes. What's more, the study also found that adding about a cup and a half of legumes to your weekly diet can improve the overall nutrient profiles of your meals, and can even help with slowing down carbohydrate absorption, which helps keep your blood sugar levels stay stable. To put it simply, your body responds pretty well to the stuff, so imagine how satisfied you'll feel after eating chickpeas in pasta form, amirite?
If you really want to double up on the chickpea power with your meals, try topping your plant-based pasta with hummus. I know, I know, that's a lot of chickpea stuff happening in one meal, but personally, I love the way the dip adds a smooth, savory texture to the overall dish.
Barilla also suggests pairing the plant-based goodness with a mushroom tomato sauce, which will ensure that your meal is full of healthy veggies. Or, of course, you can add whatever you usually like on your pasta, whether it's parmesan cheese, olive oil, an alfredo sauce — no matter what you put on top, as long as you cook the pasta to the recommended texture, you'll barely even notice that you've swapped your gluten for beans.
Now, if only someone could find a way to make a delicious ice cream out of chickpeas. If it ever happens, you know where to find me (buried under a pile of chickpea pasta, obviously).