Have you ever tried BJ's original Pizookie and thought that (with enough stomach room) you could very well eat the whole thing? Crazy, US TOO.
"I'll just have one slice of that delicious giant chocolate chip cookie," said no one ever. We do get a tinge of guilt, though. All that sugar can send us over the edge, so we decided to make a healthier version of this drool-worthy skillet cake.
No sugar, no flour, no dairy. Main ingredient? CHICKPEAS. You can trust our word that this will be the easiest and the most delectable chickpea dish you'll ever taste, but we highly encourage you to try it yourself.
This Pizookie® can even be vegan if you use carob chips!
Instructions: Preheat the oven to 350 degrees Fahrenheit. Lightly grease an 8-inch cast iron or ovenproof skillet with cooking spray.
Pour chickpeas, oats, nut butter, maple syrup, vanilla extract, cinnamon, baking powder, salt and milk into the bowl of a food processor fitted with a steel blade. Blend until mostly smooth.
Remove the lid and scrape down the sides of the bowl, then blend for an additional two minutes until very well combined and smooth. The batter will be sticky and thick.
Fold in 1/3 cup chocolate chips.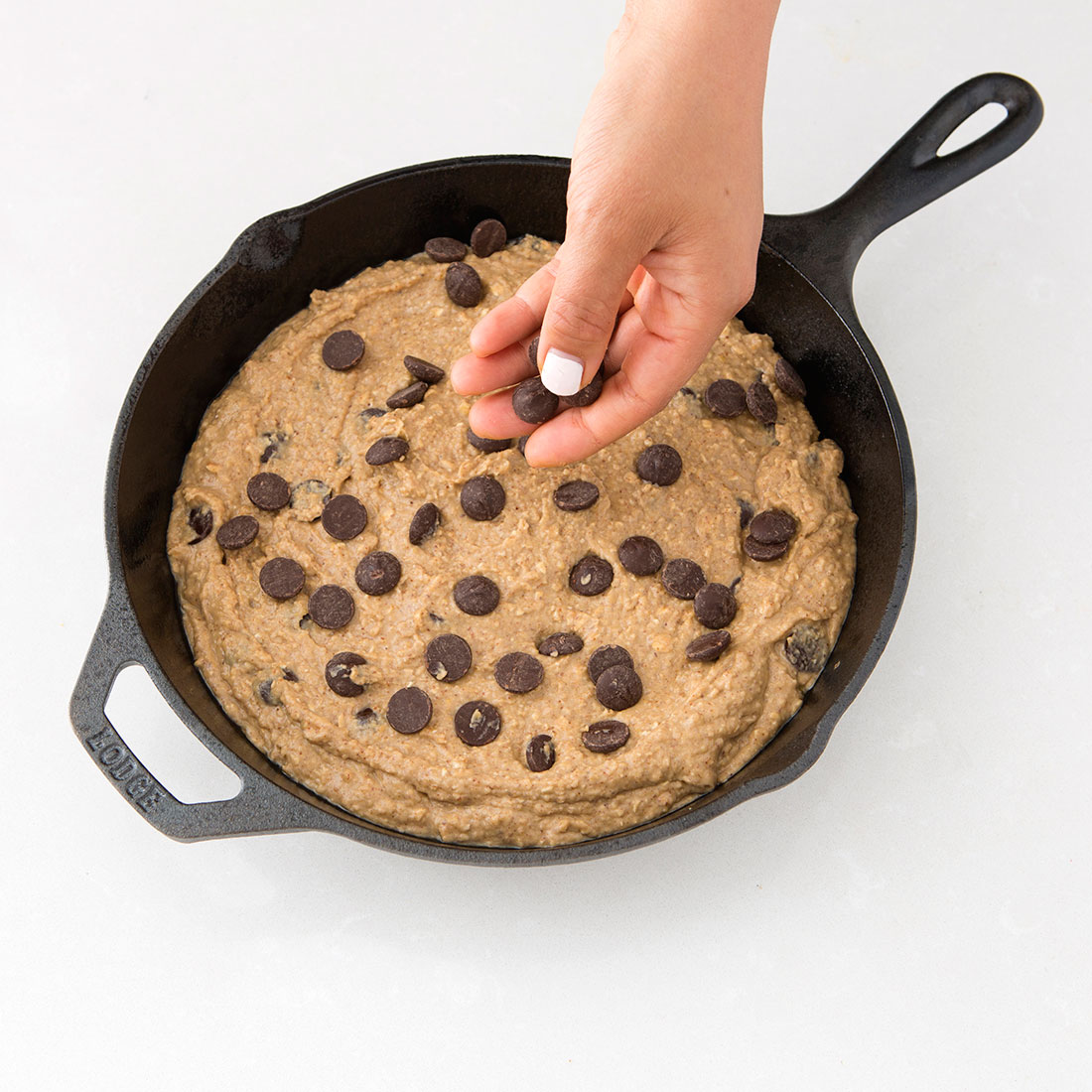 Scrape the mixture into the prepared skillet and sprinkle the remaining two tablespoons of chocolate chips over the top.
If using a skillet, bake for 25-30 minutes until the top is dry to the touch and a toothpick inserted in the center comes out clean with just a few crumbs clinging to it. If you're using an 8 x 8-inch pan, begin checking at 20 minutes.
Do not over bake or the cookie will taste dry. Slice and serve.
HEAVENLY. We topped with slices of banana and coconut ice cream. Can we get an amen?!