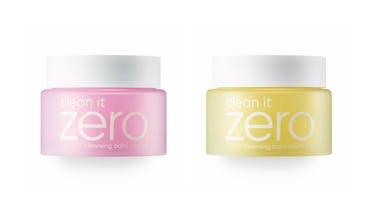 A Jar Of This Millennial Pink K-Beauty Cleanser Is Sold Every 3 Seconds — It's That Good
K-Beauty has become a state-side phenomenon, and for good reason. One particular brand has a cleanser so popular, a jar of it is sold every three seconds. Here's where to buy Banila Co Clean It Zero cleansing balm and find out what the hype is all about.
While you were reading that paragraph, about 21 jars of Banila Co's famed cleanser were just sold. There go three more, just now. By the time you're done reading this article, hundreds of jars will have been purchased. That's how popular this cleansing balm has become. Originally, this K-Beauty balm was only available for purchase in South Korea (hence the "K" in K-Beauty), but American beauty fanatics can now rejoice because the colorful tubs have found their way to the land of the free. K-Beauty as a whole has become something of a phenomenon in the United States, but Banila Co's cleanser may take the crown for most exciting new arrival.
Clean It Zero is available in four different balm varieties (cleansing, nourishing, revitalizing, and the original fan-favorite formula), as well as a foaming cleanser. The only hard part now about getting your hands on this supposedly miracle cleanser will be having to decide which beautifully iridescent box you want.
($21; Amazon)
See what I mean? The box is practically as radiant as your skin will be after you use the product. And the jar's millennial pink hue is as soothing as you'll feel while using it.
Banila Co has redesigned their best-selling original cleansing balm into this beautiful piece of art. According to the brand, it's "a sherbet cleansing balm that deliciously melts onto your skin to dissolve into a silky, smooth oil." It can be used on all skin types and it "removes makeup, impurities and dead skin cells all in one-step without stripping your skin of natural oils." That sounds like pretty much anything and everything I've ever wanted in a facial cleanser.
What makes this cleansing balm unique is that it combines what is typically a two-step process into one. Normally at night, I use a makeup removing wipe or oil and remove all of my makeup, then I also wash my face to get the leftover bits of makeup and grime. Clean It Zero, however, promises to get all of the bad stuff off in one fell swoop. The balm also works to keep your complexion hydrated so you won't get that tight feeling after you wash it off. Says the brand,
It instantly melts into your skin and dissolves into smooth oil to remove even the heaviest makeup, impurities and dead skin cells while soothing to calm skin from stress, irritants and pollution!
Wow.
($29; Amazon)
In addition to the practically magical original formula, Banila Co also offers other balms with more specific focuses. The nourishing balm is good if your skin needs some extra TLC.
($25; Amazon)
The purifying balm will really get deep in there to make sure your face gets back to "zero point," it's natural, pre-makeup state.
($25; Amazon)
If your skin needs an extra boost to get back it's glow, try the revitalizing balm.
($14; Amazon)
If you're used to equating washing your face with actually seeing suds, Banila Co also has a more traditional foaming cleanser, too.
All of the Clean It Zero products are infused with the brand's patented Zero Balance Technology "to replenish, firm, purify, and soothe." The cleansers are also all cruelty-free, and contain no parabens, sulfates, phthalates, mineral oil, alcohol, or artificial coloring (basically, irritant-free).
Me after I try out this magical cleansing balm.