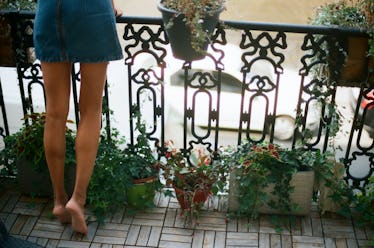 Your 8th Grade Denim Skirt Is Stylish Again, So Prepare To Ransack Your Middle School Closet
If you try hard enough, you can almost smell the jarringly sweet stench of Abercrombie perfume circa 2006. It permeates the room, leaving a smoky film of nostalgia over everything you own. You suddenly find yourself wondering where to buy a denim skirt, while recalling your penchant for choreographed boy band music videos. Wait, a second — you don't remember leaving your door open. That's really strange. And — oh my. Is that your mom asking if you've finished your Civ homework?
Hello, old friend, whispers the scent of Abercrombie 8 perfume. It's all you can see, or hear. My time has come again. The bottom drawer of your dresser starts to rumble and shake. You slide open the drawer, moving aside your muscle tees from junior year and a v cute romper you told your friend you lost — and there it is.
Like the holy grail, your Hollister denim skirt lays with the dignity of an aging queen splayed out on crushed velvet. Golden light spills from the ceiling like a parable from Ancient Greece. You lift the skirt up to the universe. You are reborn.
All this to say, denim skirts are back in a real way, and we have celebrities like Selena Gomez, Kendall Jenner, and Bella Hadid to thank. Am I into it? You bet your bippy, y'all. I happen to look choice in a cutoff denim skirt. And there's just something about the rough fringe that makes it seem like you have spiders caressing your thighs and feels electric.
If, tragically, you cast your OG middle school denim skirt into a bag marked Goodwill at some point, rest assured. Each one of these modern takes on the classic jean skirt looks awesome with just about everything in your closet.
Garden Party
Embroidered Denim Mini Skirt ($40; Zara.com)
I believe in coming in HOT, so my first choice is this little number with the roses on the side. I feel like there's some subtle and thematic fertility undertones here, but I'm also on my third cup of coffee. Also, that sweater for sure looks like a Darth Vader/Big Bird hybrid.
Why I dig it: The drop-crotch seam on the middle of the skirt elongates legs and gives the skirt a more interesting shape.
Buttoned Up
BDG Denim Button-Front Skirt ($59; UrbanOutfitters.com)
Buttons are for the woman who has her life together. At least, that's what I think when I see them walking down the street with a thermos in one hand, texting furiously with the other.
Why I dig it: This is the kind of skirt you wear when you're know you're fun and flirty, but you're not going to get knocked down. It's a responsible skirt for the lady who knows better — but sometimes makes questionable choices anyway!
Ripped Remix
Mossimo Supply Co. Women's Denim Skirt ($23; Target.com)
See, I respect this skirt. I like the juxtaposition between the high-waisted band and the rugged anti-establishment feel of the sexy rips on the thighs. I feel like this has the perfect "I-Am-Dating-Your-Son-And-I'm-Going-To-Make-Him-Grow-Up-A-Little-And-Do-His-Own-Laundry" vibe.
Why I dig it: In terms of mobility, the waist band looks flexible. I'm experienced in stretch denim, because my body can't choose a consistent shape/size. So, I can tell that this bad boy has some give, which is a serious plus.
Modern Classic
American Eagle Outfitters Vintage Hi-Rise Destroyed Denim Skirt ($45; Americaneagle.com)
This may as well be the doppelganger for thine own denim loin-covering from middle school. The sneakers add to the vision of edgy toughness and sweet, feminine poise. This is an outfit that says "I've come to slay," and leaves no room for interpretation.
Why I dig it: The dark wash speaks to a maturity of the wearer, who understands the nuance of dark blue. If you want to go balls-out, I'd recommend pairing it with a denim jacket in a slightly lighter hue. Since this is the OG reimagined, snatch it up soon before it sells out. You don't want to fight other patrons over perfectly-distressed denim.
I hope you dear readers and my worthy sisters find the denim skirt of your 2017 dreams, and together we can rise and mutiny against the unfair prison that was our bodies in middle school. We can't always count on being given second chances. This is our chance at redemption.
Let's party like it's 2009.