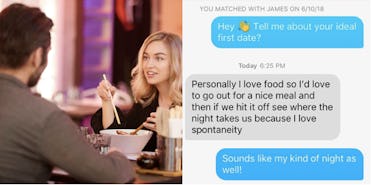 I Asked My Tinder Matches What Their Ideal First Date Would Be & They All Involved This One Thing
Choosing where to go for a first date after meeting on Tinder can be tricky. You haven't actually met IRL, so you haven't yet gotten a real sense of who this person is. Do they prefer an intimate setting to get to know someone, or are they more comfortable hanging out in a crowded pub? Would they be into meeting at bookstore, or are they at home grabbing street food and walking around the park? People can have very different vibes online or over text than they do in person. One of the best ways to gauge whether your personalities click is to go ahead and ask them what they're into. Inviting your Tinder match to describe their ideal first date is not only an interesting question to open the conversation with, but it's also an easy way to see if your interests align.
I asked my Tinder matches what their ideal first date would be, and I got a variety of answers. From mini golf or bowling, to Shake Shack and The Office, some of my matches like the idea of having some kind of activity to start the night with. Others prefer a standard drink or dinner date their first time meeting someone. But I was most surprised by the number of guys who answered that it doesn't matter where you go or what you do, as long as you're with the right person. Here's what my matches had to say about where to go on a first date with someone you met on Tinder.
James, 25
Who doesn't love food? The fact that James specified going out for a "nice meal" made me think that he's the kind of guy who wants to make a good first impression. I also appreciated that he's not afraid to be a little spontaneous when a date is going well.
Justin*, 23
It would probably involve a couple drinks, great and funny conversation, and a lively but intimate setting.
Justin pinpointed all the aspects of a good first date, but I wish he'd been a little more specific. From his description of a "lively but intimate setting," I couldn't tell if he meant sipping a nice red at a wine bar, or grabbing beers over PAC-MAN at an arcade bar.
Andrew, 24
With a little prodding, Andrew gave a great answer. An outdoor lunch during the summer is such a cute first date idea, and like he said, it's a casual enough setting to meet someone in for the first time without there being too much pressure.
I had to make sure Andrew wasn't the type to dine and dash if a date isn't going well. Luckily, his answer showed both honesty and respect — two traits I value in any relationship.
Sheldon, 33
Sheldon's initial idea felt a little intense to me, which is why I was surprised when he added the bit about afternoon brunch at the end. Just like with my other matches, though, it seemed like Sheldon's priority was to go out with someone he could vibe with. As long as he and his date got along, Sheldon would be up for pretty much any activity.
This experiment didn't give me any out-of-the box date ideas, but it did reinforce the concept that good food and even better company are all you need for an enjoyable first date. Even if you two have never met in person, a casual setting where you can get to know one another isn't so hard to find. And while many dating experts believe first date drinks are preferable to a lengthy dinner, these guys all mentioned eating some kind of meal together.
If I were to go on a date with one of these Tinder matches, I wouldn't argue with any of their suggestions. While I do have a few favorite places to get to know someone new, I'll save my ideas for the second date.
*Name has been changed.
Check out the entire Gen Why series and other videos on Facebook and the Bustle app across Apple TV, Roku, and Amazon Fire TV.
Check out the "Best of Elite Daily" stream in the Bustle App for more stories just like this!