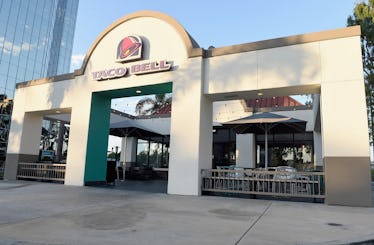 Taco Bell Released Tacos With Hash Brown Shells & Here's Where To Get One
Joshua Blanchard/Getty Images Entertainment/Getty Images
If you keep intense, close tabs on Taco Bell (like I do), there's a likely chance you're well-aware of the fact that 2018 has been the Year of the 'Bell. First, the ever-elusive Nacho Fries rocked my world, and then the super sweet Watermelon Freeze came along to cool fans off for the summer. However, it seems as though Taco Bell's latest endeavors have revolved around the recent release of the Crispy Potaco, and I'm seriously dying to try one. Since you might be wondering where Taco Bell's Crispy Potaco is available, though, brace yourself. You probably won't be thrilled with the answer.
So, what is the Crispy Potaco, you might ask? Well, it's pretty much exactly what it sounds like. In addition to the fact that it's comprised of pure heaven, along with everything that's right in the world, the Potaco is wrapped in a shell molded from gosh darn hash browns instead tortilla, according to Brand Eating. It's basically a vegetarian godsend, filled with lettuce, fiesta salsa, cheese, and "signature sauces," as well as an array of "Mexican spices."
Long story short, the Potaco is a dang miracle, and the only downside to it all is that the Crispy Potaco is only available in India. Yup. I probably should have told you that one minor detail at the beginning, but I seriously couldn't help myself. I got carried away, I suppose. In all seriousness, though, I am so, so sorry for your loss. I never meant to hurt you like this.
In my opinion, every sad story has a bright side, so here's a bit of enlightening news. If you do decide to trek all the way across (a few) ponds to India, the cost of the Potaco is pretty dang cheap. Cheers to saving some money, though, right?! According to Foodbeast, the Crispy Potaco only goes for a mere 99 rupees (which only amounts to a little under $1.50 USD). So if I do end up going, I'll totally bring back a few Potacos for all of you. It's the least I can do.
In a press release by Best Media Info, Sidharth Shukla, Vice-President and Head of Digital, Ogilvy Delhi, gave all the dirty details revolving around the Potaco. He said the Potaco launch was an incredibly fun and interesting experience. The company made sure to emphasize the fact that the potato is something that people literally eat all the time, but never consider to be a main player in their meals. However, the Potaco manages to successfully bring the potato to the forefront of the meal, hence their hashtag, #MakePotatoGreat. Cute, right?
In the release, Shukla said,
Getting the opportunity to launch another innovative product such as the Crispy Potaco for Taco Bell India was truly awesome. Everyone was geared up, all set to break previous milestones that we had established on both the creative and the business front. And for a product variety that we eat so much of, but barely give it a second thought.
OMG. OK, I get it. I know the Potaco is amazing, you don't need to rub it in my face, dude. The Potaco is probably the best invention since sliced bread, and it kills me knowing that it's approximately 8,000 miles away from my mouth. However, I'm not entirely sure why everyone is just now realizing that the potato really should be the star of every meal, but I'm glad it's finally happening. Sorry, I'm just salty I can't get my hands on a Potaco yet. I'm just praying for its U.S. arrival to happen really, really soon.