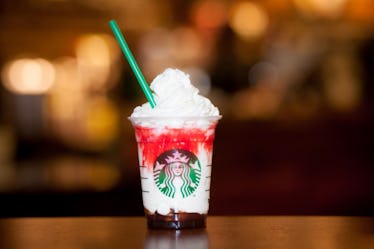 Starbucks' Spooky Vampire Frappuccino Exists, But You Might Have A Hard Time Trying One
Starbucks
The clock is ticking, All Hallow's Eve is quickly approaching, and the opportunities to embrace this creepy and kooky time of year are dwindling, so you have to act fast, folks. Fortunately, everyone's favorite coffee company decided to celebrate the spooky season with a new menu addition that will leave hungry customers screaming (with delight, of course). People are wondering where the Starbucks Vampire Frappuccino is available, but there are a few things to know before sinking your fangs into one of these bad boys.
For those who are making their way across the pond, it's time to unleash your inner Dracula. Starbucks' Vampire Frappuccino — a chocolate cream flavor drizzled with strawberry sauce and topped off with a serving of whipped cream — is making its debut in London to mark the frightfully fun occasion. It's "the perfect indulgence to enjoy during the spooking season," according to a statement shared by Cosmopolitan, and it'll be available until Oct. 31. If you were looking for an excuse to book a plane ticket, a new release from Starbucks is certainly a solid justification for making travel plans.
But the UK's ode to Dracula isn't the only way it's ringing in the spooks. Starbucks will also release mummy and pumpkin cookies to accompany frapp orders, so this exciting news is even sweeter. We bet you can't resist hopping onto Expedia after hearing that tidbit (no judgment here).
Not in the UK? No problem. There are other ways to channel your favorite classic horror villains. Word on the street is that Starbucks might be making a Zombie Frappuccino in the United States, which will come complete with spooky and sweet flavors — the keyword being "might." The Zombie Frappuccino is supposedly akin to Frankenstein. According to alleged leaked info from baristas — as Cosmopolitan reports — the drink will feature a green hue and a caramel apple flavor, sport some tasty pink streaks (for the brains, of course), and offer a dollop of whipped cream for good measure.
Sound enticing? You'll just have to wait a little longer before the company unveils its Halloween news. A Starbucks rep tells Elite Daily,
Our Halloween plans are still under [mummy] wraps, but we look forward to sharing more details with the living soon.
Let's say you're really creative... and really in the mood to celebrate Halloween. Now that you know what is in each drink, you can give the order a whirl during your next morning coffee run. There's no telling how the baristas are going to react to a complicated order, but it's worth a shot, and if the ingredients are available, who knows? You just might walk away with a Zombie or Vampire Frappuccino.
There are definitely other options that give customers a taste of fall in a cup, so not to worry. Try the new Horchata Almond Milk Frappuccino if you need a little breather from the PSL orders. With a blend of coffee, almond milk, caramel, and cinnamon dusting, this treat screams flannel shirts and beanies. Let's not forget about the Maple Pecan Latte. The new drink is like a pancake breakfast in liquid form, so if that doesn't get customers in the fall spirit, nothing will.
Here's to hoping that Starbucks will confirm the Zombie Frappuccino in the United States, come to its senses and realize we absolutely need to suck the strawberry blood of the Vampire Frappuccino as well. Is it too much to ask for a Halloween miracle?
Check out the entire Gen Why series and other videos on Facebook and the Bustle app across Apple TV, Roku, and Amazon Fire TV.