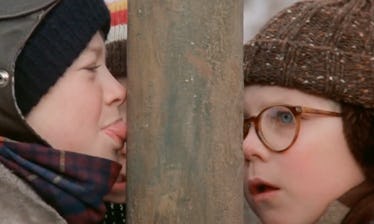 Ralphie From 'A Christmas Story' Is All Grown Up & Taking His Talents Behind The Scenes
YouTube
If you hear the phrase "You'll shoot your eye out, kid!" just as much as "Happy Holidays" around this time of year, you're probably a child of the '80s or '90s, when watching A Christmas Story became as much of a tradition as gingerbread cookies and decorating the tree. If you're familiar with the movie, then you're definitely familiar with the reckless but lovable Ralphie, aka Peter Billingsley. So, where is Ralphie from A Christmas Story now? The child star is all grown up.
For as long as I can remember, my family always watches A Christmas Story at some point throughout the holidays, usually during TBS's 24-hour marathon of the movie. For those who are unfamiliar with the movie (OMG, I'm getting old), A Christmas Story tells the hilarious and heartwarming story of Ralphie Parker, a 9-year-old boy who wants a Red Ryder BB Gun for Christmas. The story also focuses on other events in the Parkers' lives that year, including the arrival of some cringe-worthy living room decor and an ongoing feud with the neighborhood bullies. It's one of those movies that your parents tell you you have to see and actually turns out to be as hysterical as they said it was. Think of me as your parent in this situation: You really do have to see it.
Billingsley, now 46, played Ralphie when he was just 12 years old. He and all of his siblings acted as children and were heavily involved in showbiz. Billingsley had his first acting gig when he was just three years old, and went on to star in over 100 commercials, as well as a number of movies and TV shows. As many roles as he has played, Ralphie remains his most iconic. When A Christmas Story came out, Billingsley was nominated for a Young Artist Award, and if you've seen his comedic timing in the movie, you know that the nomination was well-deserved.
As an adult, Billingsley has transitioned into behind-the-scenes work on a number of projects. He executive produced The Break Up and directed Couples Retreat. If you're thinking to yourself, "Hmm, those are both Vince Vaughn movies," nothing gets past you. Billingsley and Vaughn met in the '90s when working on a CBS Schoolbreak Special, and clearly the two have remained close. Billingsley has appeared in a handful of minor acting roles, as well. It's obvious that his passion for acting, film, and television is still alive and well, which is awesome given that child stars don't always get to carry on their success or love of the art.
Everybody is buzzing about A Christmas Story right now, thanks to FOX's A Christmas Story Live! which will air on Sunday, Dec. 17 at 7 p.m. ET on the television network. The special will be a musical spin on the movie, and is also partially inspired by the actual musical that came out in 2012, which casually earned three Tony Award nominations. The cast is star studded, with names like Matthew Broderick, Maya Rudolph, Chris Diamantopoulos, Jane Krakowski, Ana Gasteyer Ken Jeong, and David Alan Grier filling the roster. The adorable Andy Walken will take on the role of Ralphie. Fingers crossed that he does Billingsley justice!
If you're a fan of the classic and don't wanna miss this special, but aren't sure if you'll be able to catch it when it airs (hello, last minute shoppers), we've got you covered. There are a number of streaming options for A Christmas Story Live! including Fox.com, FOX NOW, Hulu, PlayStation Vue, and Fubo TV. No need to get your tongue stuck to a pole about it.
Check out the entire Gen Why series and other videos on Facebook and the Bustle app across Apple TV, Roku, and Amazon Fire TV.