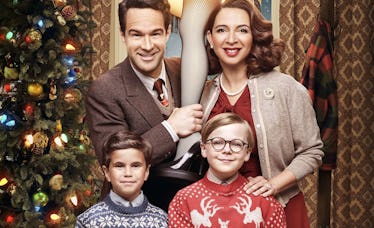 5 Ways To Watch 'A Christmas Story Live!' To Get You In The Holiday Spirit
FOX
There are two true Christmas classics in our time. The first is A Christmas Carol, the short story by Charles Dickens that has been a staple of Christmas for generations. Then, there's the 1983 film that is all the 1950s nostalgia cliches of the period wrapped up in a bow like a BB gun: A Christmas Story. Now, FOX has taken this classic a step further with a live musical version, airing Sunday, Dec. 17, 2018. But for those who don't have FOX or are busy, will A Christmas Story Live! be on Hulu?
For those who missed that A Christmas Story became a musical, hey, welcome to the Broadway-ifcation of our pop culture, where the addition of a mere "!" suddenly has characters are breaking out into song. The concept of taking this 24-hour marathon on TBS classic and turning it into an upbeat song-and-dance-fest came out of Kansas City in 2009, which then became a national tour that wound up on Broadway in 2012, where it did limited runs during December for the next two years.
As for the live musical phenomenon, NBC started that, but with quickly diminishing audience returns, they decided to give it up this year, leaving FOX as the latecomer, and now only one, at the party.
At least they have a good cast. Maya Rudolph of Saturday Night Live fame heads up the big names as Mother, while Matthew Broderick is Grown Up Ralphie, the narrator. Rudolph is known for her vocal chops, and Broderick is a Broadway veteran, so that's a nice solid foundation. Joining them will be Jane Krakowski (30 Rock), Ken Jeong (The Hangover), David Alan Grier (The Wiz Live!), and Ana Gasteyer (Lady Dynamite).
But for those who have cut the cord and no longer get any sort of terrestrial TV, or just won't be home on Sunday night to watch, how can one stream A Christmas Story Live!? It's not like it will be coming to Netflix any time soon.
Luckily, there's Hulu, which seems to have the streaming rights to everything FOX airs. Or does it?
It does! In fact, FOX is going out of their way to make sure that this musical can be streamed many different ways.
Fox.com or FOX NOW
If you do have a TV provider and just won't be home, you can catch up any time by streaming it on FOX.com or on FOX NOW on any device that supports the app. (That's iPhone, iPad, Android, Roku, Apple TV, or Xbox One.) You can also watch it On-Demand on FOX NOW anytime, once the airing has started in your local market.
You can also watch on FOX NOW any time beginning the day after the broadcast with no TV provider required.
Hulu
But can you watch on Hulu? Yes. Even though it has recently made a push into it's own original programming like The Handmaid's Tale and others, Hulu originally started out as a joint venture by the network broadcast companies ABC, FOX and NBC as a way to stream their content to viewer's computers, and that streaming service of all the terrestrial programming from three out of five major channels* is still the dominant form of content on the app.
(*CBS, which owns The CW, decided to sit Hulu out and develop their own streaming service, which currently is attempting to succeed on the back of Star Trek: Discovery and not much else.)
Other Providers
Hulu is called a "Pay TV Provider partner" in the lingo of the business. They're not the only one, mind you, but they are the best known. Others include PlayStation Vue, and Fubo TV. So, if you have those, you can watch A Christmas Story Live! Enjoy!
A Christmas Story Live! airs on Sunday, Dec. 17, 2018 at 7 p.m. ET on FOX.