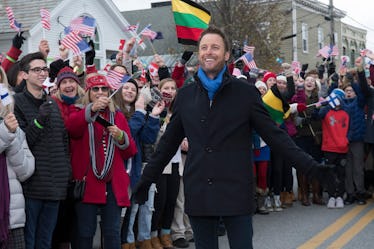 'The Bachelor Winter Games' Cast Braved The Cold While Filming In This Location
ABC
The Bachelor franchise has filmed all across the globe — from the famed mansion in Malibu to the Mexico shores of Paradise to exotic stops like Belize, Bali, and New Zealand. But for ABC's latest addition to the Bachelor programming roster, ABC heads to a snowy locale perfect for icy weather competition and fun. No, not PyeongChang, South Korea. This isn't the actual Olympics. So, where is Bachelor Winter Games filmed? Right here in the US of A; Vermont, to be exact.
The Bachelor Winter Games mainly took place at the Olympic Village is the Hermitage Club at Haystack Mountain resort in Wilmington, Vermont. Scenes were also filmed in the small town of Manchester, Vermont. If you're not familiar with this Bachelor spin-off, which premieres Feb. 13, upon its announcement ABC described that it "will reunite the all-stars at a luxurious winter resort, where they will go head-to-head in winter-themed athletic challenges including the toughest sport of all, love." Romance and physical competition is a match made in reality TV heaven, so of course Bachelor Nation is chomping at the bit to see what goes down and who gets it on. The promo is already teasing tears, make-outs, and OMG moments, in addition to glimpses of the cast as they compete (and wipe out) in the cold for reality TV glory.
Vermont may have provided the ideal backdrop for Winter Games, but remember — it's not just Americans who will be featured on the show. Though, Team USA has a strong showing of memorable Bachelor alums that we can't wait to reunite with on the small screen. The lineup includes Eric Bigger, Josiah Graham, and Jamey Kocan of Rachel Lindsay's Bachelorette season, Luke Pell from JoJo Fletcher's, Michael Garofola of Desiree Hartsock's season, former Bachelor Ben Higgins, Clare Crawley from Juan Pablo's season, Ashley Iaconetti (known as the frequent cryer) from Chris Soules' season and Paradise, Lesley Murphy of Sean Lowe's season, and Dean "Deanie Baby" Unglert from Paradise and Rachel Lindsay's season. It was recently announced that Bibiana and Lauren G., who were eliminated from Arie's current season in the show's first month, will also be joining in the games. It's like a regular who's who of fan favorites!
In addition to those familiar faces, expect Canadian, Japanese, Finnish, Australian, UK, and more international delegations to be represented. Hey — The Bachelor exists in 37 countries, so it was only a matter of time before they crossed over.
Ashley Iaconetti recently spilled some scoop to People, revealing that she feelsWinter Games is "better" than Paradise. She also pointed out their differences, explaining, "It was fun because the activities broke stuff up a little more, so it wasn't just lounging around and drinking and eating all day." We admit that despite its enormous and addictive appeal, sometimes Paradise feels like it's just one long shot of sweaty good looking people alternating between the sun and the shade while waiting around for a rose ceremony, a date, or a new contestant to show up. Not that there's anything wrong with that... It'll be refreshing to see them in a more structured environment, challenged by activities and the exciting element of athletic rivalry.
Bachelor Winter Games is ABC's reality TV answer to coverage of the real Winter Olympic Games, as the programming will air opposite one another. But Winter Games has some tricks up its sleeve that take it to the next level. It's been reported that famed figure skating champ Nancy Kerrigan will make an appearance, as well as ESPN's Hanna Storm, and beloved Bachelorette OGs Trista and Ryan Sutter. Rachel Lindsay is also set to cameo.
We're starting to have faith that Winter Games is going to be our next reality obsession.
Bachelor Winter Games' wild ride kicks off Feb. 13 on ABC.