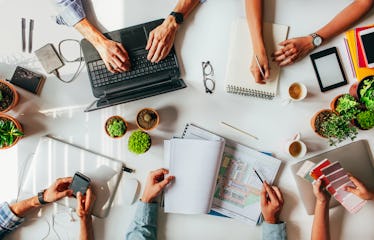 You Probably Didn't Know There Are Tons Of Germs In These 7 Everyday Spots & Yikes
Sometimes, it's better not to know how much bacteria surrounds you in your daily world. It's literally unavoidable, which is why you can't sweat the notion of germs too much, otherwise you might willingly confine yourself to a literal bubble. But there are certain spots you come across in your everyday life that are exponentially more concentrated with germs and bacteria than other places, and it's good to know about them so that you can minimize the level of risk you associate with each one. Knowing where most germs hide isn't just a suggested practice; it's basically one of the final steps of adulthood.
The world can be a yucky place, especially in areas that you'd initially trust. This is always a kind of upsetting reality, but it becomes scary when you consider the severity of the 2017 to 2018 flu season, which is rapidly on its way to being one of the most deadly flu seasons in recent history. In the midst of such an epidemic, the idea of being healthy leaves the theoretical and becomes something of immediate importance.
You obviously can't avoid all of the germs in the world, but you can certainly make an effort to keep your home cleaner and to avoid unnecessary bacteria whenever possible. Here are seven unlikely germ hot spots to take into consideration the next time you go on a cleaning spree.