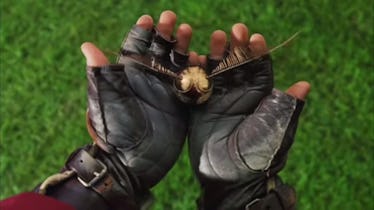 Golden Snitch Butterbeer Donuts Are Officially A Thing: 10 Points To Hufflepuff
Warner Bros.
Autumn is a time for sports. During October, baseball has the World Series, the NFL is on every Sunday, meanwhile the NBA starts their season, as does the NHL. But for some, the best sport of October is Quidditch. For both wizards and witches at Hogwarts, and for muggles who play in the IQA (the International Quidditch Association), October is the time of the Fall regional. And to celebrate, there are now Butterbeer flavored donuts topped with Golden Snitches you can eat. But where can you get Butterbeer donuts? And why aren't you eating one right now?
The brand new donut flavor is courtesy of the company Sugar Shack Donuts. The company is based out of Richmond, Virginia, and most of their outlets are located in and around the state, with a few locations having spread as far north as Washington, D.C. and as far south as Florida.
These limited edition Harry Potter-themed donuts started only in two locations originally, but the sheer popularity of Butterbeer donuts (topped with golden snitch) has spread like wildfire. Those stores that still don't have them as of yet are promising that all outlets will be stocked by this coming Sunday, and will remain so through the end of the month.
For those whose shops do not have the specialized treat yet, owners are trying to make it up to their customers. One Virginia Beach location offered free donuts to anyone who came in with their favorite Potter novel in hand.
Yes, we will have Butterbeer Donuts this month, but no we don't yet. In the meantime, bring your favorite HP novel for a free house donut today. Physical books only, no ebooks. #vbdonuts#virginiabeach#harrypotter#butterbeer#donuts #donutshop#sugarshack#sugarshackdonuts
Considering the growing pressure to get them out, shops are asking customers to pre-order their donuts ahead. These are a limited edition item, and with comments on Instagram and Facebook asking if they do out of state deliveries, the company can already tell that demand is about to outweigh supply like whoa.
They've also put out a plea on their official Facebook page:
This Harry Potter Donut thing has gotten crazy, now being shared by Cosmopolitan and Teen Vogue Magazine among others. So let's celebrate a little more wizardry love today. Bring in your wand and perform a spell, and we'll give you a free house donut. Real wands only, no pencils or sticks from outside. Don't forget to pre-order your HP donuts because while we are making them Saturday and Sunday, we fully expect to have more demand than supply.
(As a NoVA resident, I called and checked my two closest locations. Both said they are stocked, and would have them through the end of the month. But both agreed that they usually sell out by lunchtime, so order ahead. Contact info is here.)
For those who aren't close to the Northern Virginia/DC area, or deep in the state of VA, don't wail and gnash your teeth that nothing good can be close by. There are tons of butterbeer recipes on the internet for those Hufflepuffian bakers and makers of sugary treats that you can follow at home.
Check out this video to make your own butterbeer drinks for this coming Halloween, to celebrate October 31st and The Boy Who Lived.
For the more adventurous, who want to attempt to make butterbeer donuts at home for their next local Quidditch game, food blogger Gringalicious has the do-it-yourself recipe for Meringue Frosted Butterbeer Baked Donuts.
Food bloggers understand that not every Harry Potter nerd can get to Hogsmede, or to Sugar Shack, for that matter.
Just be advised parents, this recipe contains both scotch and strong, black coffee. After all, butterbeer is not exactly an all-ages type drink... or donut.